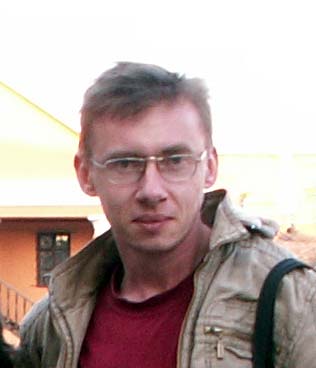 This site was created in January, 1999 from 65 photos, which was created by wellknown Moscow photographer Dima Zverev. Updates of this site take place at winter and spring every year. Now site contain about 1100 photos of plants from this collection.
Our collection is located in Timiryazev Institute of Plant Physiology, Moscow. The collection contains: species mainly from Crassulaceae family (Crassula, Echeveria, Pachyphytum, Kalanchoe, Aeonium, Graptopetalum, Sedum, Cotyledon, etc.) and some other leafy succulents (Haworthia, Senecio, etc) except caudiforms and traditional cacti.
The collection is mainted by Peter Lapshin, Ph.D., Biology, Research Scientist in Department of Cell Biology and Biotechnology of the Institute. The old resume present here. Basic profession is plant biotechnology, biochemistry.
Succulent collection was started at 1990 from nearly 90 sorts. The count of species have grown up to 200 taxa at 1998 and 300 taxa at 2002. Before 1999 plants were growing in a urban flat on a window sill. Now this collection is located in a greenhouse. There are about 800 species and cultivars of different succulent plants in this collection now. Priority of collection is mainly the Crassula genus and other genera of Crassulaceae family.
Yours faithfully, Peter Lapshin, Moscow, Russia.