ABNORMAL FORMS OF CACTI IN THE COLLECTION OF SERGEY SYUZEV (SOCHI, RUSSIA)
by Peter Lapshin (Translated from Russian by Irina Ten)
Virtual journal about anomalius forms of succulents "Cultivar" www.cultivar.ru: issue 5 (27), November, 2004
Photo 11.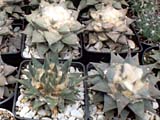 Photo 12.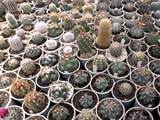 Photo 13.
Photo 14.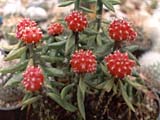 Photo 15.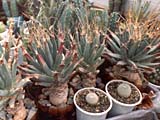 Photo 16.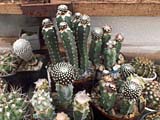 Photo 17.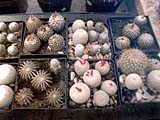 Photo 18.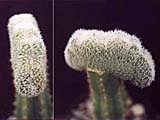 Photo 1.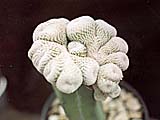 Photo 2.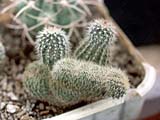 Photo 3.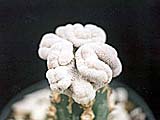 Photo 4.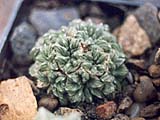 Photo 5.
Photo 6.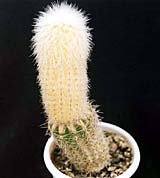 Photo 7.
Sergey Syuzev is a collector from Sochi (Krasnodar region, Russia). He took his interest in cacti in 1969 when he was living in Alma-Ata, Kazakhstan. First echinopsis and opuntias were bought in the shop selling the plants supplied by the local cactophyles. Later that year he visited the city cactus club "Astrophytum" headed by Andrey Sokolov. In that club there was a school for beginners where students, in order to graduate, would pass a test on biology, geography and cultivation of cacti. After that a candidate became a member and was presented with a diploma during an enrollment ceremony.
At first his interests included plants from genera Astrophytum, Gymnocalycium, Mammillaria, Neoporteria, Neochilenia. Then, after he had moved to Sochi in 1997, there was a jump to new quality in his collection. Nowadays, he has almost complete collection of such genera as Ariocarpus, Thelocactus, Turbinicarpus, Echinomastus. There are also many species of Echinocereus, Coryphantha and others in his collection.
All the photos of abnormal cacti shown here has been taken in Sergey's collection in August 2004.
Photo 1. Echinocereus chloranthus v. russanthus f. cristata. From seeds of J. Dohnalik (Czechia). A cristate form was found among 1.5 year-old seedlings. The plant grew on its own roots 1.5 years more and then was grafted on Trichocereus. The picture shows a grafted 1.5 year-old plant.
Photo 2. Epithelantha greggii f. cristata. One of the seedlings from the seeds sown in 1999 turned out crested. A fragment of this seedling was grafted 2.5 years ago. The cristate produces offsets regularly. The mother plant had been growing on it own roots until it died accidentally. It didn't flower.
Photo 3. A seedling of Echinocereus chloranthus v. russanthus f. cristata produced normal offsets. The cristate didn't flower.
Photo 4. Another specimen of Epithelantha greggii grafted on Eriocereus jusbertii. Its growth is slow. It was grafted 3 years ago. Probably, a slow rejection of the scion from the stock takes place, because the stock is trying to produce offsets regularly and the scion forms air roots. In the future it is planned to root the scion and to cultivate it on its own roots.
Photo 5. Aztekium ritteri f. monstrosa. A 6 year-old plant on the picture was grafted 3 weeks after its germination. A year later a pea-sized seedling was re-grafted on Echinopsis, where it started to develop a monstrous form. Three years later, when the stock was depleted, the plant was rooted after treatment with heteroauxin that encouraged production of callus, from which the roots were formed. The picture shows the plant on its own roots.
Photo 6. Astrophytum asterias v. micosemium. An interesting double-headed, 6 year-old specimen. At the age of 2 the meristem was damaged by mice and after that the plant started to form 2 heads synchronously.
Photo 7. Cleistocactus strausii f. variegata. The seeds were obtained from Czechia. The plant is 4 years old. Yellow color became apparent 2 years ago. After that the specimen was grafted on Echinopsis.
Photo 8a, 8b. Austrocylindropuntia clavarioides. This natural species looks so unusual that it is often considered as some abnormality. The plant shown in the picture has reached this size in only 2 months from a centimeter fragment of stem grafted on Cylindropuntia cylindrica. The plant is cultivated in a greenhouse in Sochi.
Photo 9. Astrophytum myriostigma v. quadricostatum x 'Onzuka'. The specimen was obtained from the nursery "Uhlig" (Germany) 3 months ago. The three year old plant was grafted on Echinopsis. The apex was cut off and the picture illustrates an interesting effect: a new offset is forming from the central vessels of the stele.
Photo 10. Ariocarpus kotschoubeyanus, Rio-Verde. An interesting feature of this cactus is the simultaneous development of the main stem and offsets. A specimen shown in the picture had been grown from seeds 3 years ago. Two weeks after its germination the seedling was grafted on Pereiskiopsis. A year later it was re-grafted on Echinopsis. The offsets had started to develop on the first stock.
---
| | | | |
| --- | --- | --- | --- |
| Photo 8a. | Photo 8b. | Photo 9. | Photo 10. |