Advertisement of magazine "CACTI and Other Xerophiles "
Today we would like to introduce you magazine "CACTI and Other Xerophiles" an official magazine of the Russian Society for Study of Cacti and Other Xerophiles (RSSCOX) founded in 1998.
The preface of the first issue runs: "10 years ago there were about 200 cacti clubs in Russia. Now, as far as we know, there are hardly 29. In this situation we suggest that cactophiles who can not find colleagues in their home towns and villages unite. Our magazine is going to be not only the source of useful information on different aspects of growing cacti but also a means of contacts". 10 issues appeared during a little more than 2 years. Here are the topics of some of the articles. Take into consideration that there is a page for President announcements in every issue.
№ 1 за 1999г
Germinating capacity of cacti (№ 1) Cacti in Israel Mexican Crassulaceae Succulent Dorstenia Vexed questions of systematization of two species of cacti. Tequila
№ 1(7) 2001
Kurt Bakeberg
White flower Parodia
One of Euphorbian sort
Anacampseros – theme and variations
The results of the spring sowing of foreign seeds.
Litops genus
№ 2(4) за 2000 г.
The Northern and Southern borders of distribution of cacti in America
Have you met agaves?
When to transplant cacti
Lophophora
Echeverias
Grass cactus
Night beauty
Mandragora Turkmenica
"Cacti'-Mesemrb
Echinocereus knippelii
№ 2(8) 2001
V.M.Serovaiskiy is 60 About the time and myself
Edward Anderson (1932-2001)
Novelties
Planting out cacti
Peiotl – a different point of view
Frithia genus
Brunsvigias
"Noninterest" gasterias
№ 3 (5) 2000
Biographies of the Grear – George Angelman (1809 – 1874)
Novelties in succulents
Introduction of genus Opuntia Mill species in Nikita Botanical Garden, Crimea, Ukraine
Cultivation of "other succulents"
Proliferation of some of cacti
Portulaca grandiflora
"Mesembrs" – Argiroderma genus
Calibanus
Colored cacti

N3-4(9) 2001
In memory of Irina A. Zaletaeva
A.V.Frich – a great hunter for cacti
Designing greenhouses for keeping cacti all the year round.
Cactoids of Europe and vicinity
Novelties in succulents
Astrophytum coahuilense
How to write an article on cacti
Review of a Gapon and Shcelkunova's book
List of botanical gardens of Russia
| | |
| --- | --- |
| | |
Nicolay G. Balashov, Ph.D., professor, is a Chief Editor of the magazine. He got interested in cacti during his school years, but became serious about his hobby in the 60s. In late 50s he got acquainted with Irina A. Zaletaeva (we wrote about her in CULTIVAR #5). He knew about her activities and consulted her rather often. Nicolay Balashov's passion is Astrophytum, he deals with them for more than 30 years.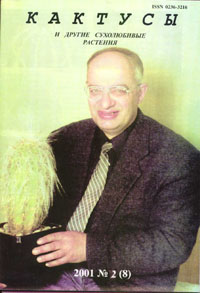 Photo 5.
Innokentiy E. Sinev, IOS member, is a Deputy Editor. Following his hobby he moved to Turkmenia where he worked, with breaks, from 1976 to 1996. From 1990 to 1996 he was a Director of Parkhai Succulent Botanical Garden of Turkmenian experimental station on plants genetic resources. He gathered a large collection of cacti and other succulents. He published a magazine-catalogue. After the independence of Turkmenia was declared the new authorities gradually substituted Russian executives for Turkmen. After Innokentiy Sinev returned to Moscow he started actively contributing to the work of the Moscow cacti club and publishing activity. He was among those who initiated magazine "Cactus-Club" and its first Editor (later the magazine became private). Now he is Editor of magazine "Succulents" published in English and Russian (we are going to speak of it in the next issue) and Deputy Editor and inspirer of this magazine.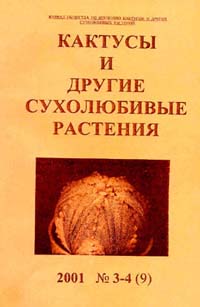 Photo 6.
Walery M. Serovaiskiy – President of RSSCO, Editor of cacti section of our magazine. The first collection that he saw was the one of Irina A. Zaletaeva. It was in 1971. The same year he became a candidate for a member of the Moscow cacti club. As he speaks of himself, "I have always tried to lead an active life. With time my collection grew and improved. I participated in all the club exhibitions where the collections were judged very strictly. Gradually I became one of the best. First I was in Top 10, then in Top 3. I won the prizes of all-union exhibitions twice." He was not only an active member of the Moscow club but also consulted many regional clubs under the auspices of the All-Union Association of Cacti Clubs founded in 1988. Later he was Executive Director of the Association.
In 1997 Walery Serovaiskiy was elected the Chairman of the Moscow club. Thanks to his activity the number of exhibitions increased, educational process was resumed. As a result young people came to the club and former members resumed their membership. In 1999 the number of members increased from 30 to 70 persons. During the recent years he's been obsessed by the idea of uniting the cacti clubs the fell apart after the collapse of the USSR. He says: "Cactophiles living in small towns or villages badly need information and associates. For such people in 1997 we founded the Russian Society for Study of Cacti and Other Xerophiles. And the magazine became the means of uniting them. Everyone is welcome in RSSCO. As you know, my colleagues did me the honour to elect me the President of RSSCO. (In 1999 Walery retired from the post of the Chairman of the Moscow club – the author). Our society is in the beginning of its activity, and there are drawbacks in our work. We hope and believe that there will be few of them with time."