GRAFTING SEEDLINGS
Vladimir Boxer, Angarsk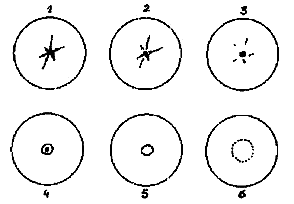 Pic 1.
You'd better graft young seedlings (under 1 month) onto Pereskiopsis or Echinopsis. When you graft young seedlings you should find the right place to cut the stock. Cut off Echinopsis by thing layers, the first layer should run through the top.
The Picture 1 shows what you will see at the place of cutting. Cut off thin layers till you see a complete circle (pic.5). This is where you can put the scion. Place it off the center on the vascular cambium. The cut shown on picture 6 does not fit for young seedlings. The seedling should be cut as follows: pick it up from the soil, put on the clean glass and cut it with a very sharp razor so that the upper part stay on the blade. Then put the razor on top of the stock holding the scion with your finger and remove the razor.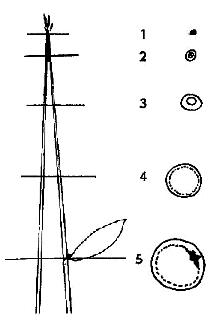 Pic 2.
Grafting on Eriocereus jusbertii is different. Only one horizontal cutting should be made, then leave the stock for about 20-30 minutes. After the sap stops oozing out you can dry the cut with blotting paper. Then cut the scion and put it on the stock. I wouldn't recommend grafting too young seedlings on this stock.
Now let's talk about grafting on Pereskiopsis. Cut it as shown on the Picture 2. Cuts #2 and #5 are the best, but cut #3 is also OK though you run a higher risk of failure.
Good luck, Vladimir Boxer.
Pictures from Czech Anniversary Collection of Ostrava, 1969 with comments by V. Boxer. This article whitten by Miroslav Voldan, and named: "Grafting seedlings on Echinopsis and Pereskiopsis".
---
*** Dmitriy Fesenko (Moldova) grafts seedlings keeping their roots. It allows easy scion's rooting later (photo 2). As far as I understand the idea of such grafting seedling is cut on the side as deep as vascular tissues lay. Then the seedling is fixed with a rubber band on Pereskiopsis. Such a cut will be rather oval than straight, and you will have to fix it. According to Dmitriy, in this case the graft won't grow into the stock. Text and photo by Konstantin Kraevskiy, http://cactus.bendery.md
| | |
| --- | --- |
| | |
| Photo 3. Plants by Dm. Fesenko, Moldova. | Photo 4. Plants by Elena Simonova, Kuban, Russia. |
*** I tried to graft offsets with soft tissues on Pereskiopsis cut cone-shaped (sharpened like a pencil). The stock pierces the scion. The result is superb. It is convenient to graft this way offsets whose cambial ring is bigger or smaller than the one of the stock. Using this method you can achieve a full match of cambial rings. But it is difficult to graft this way offsets with hard tissues. I use only a month old seedlings taken from Botanical garden which are 15-20 cm long. It is inconvenient to use older plantlets as they become rather hard. (by Alexandr Krupoderov, Novosibirsk)

Photo 5.
*** I do wedge-like grafts on Pereskiopsis as shown at the picture. To fix them I use a cactus spine, for instance, of Echinopsis. It is convenient to graft not only seedlings but also older offsets and papillae of cacti. (by Victor Ponomarev, Chelyabinsk).