"The Paradise" - www.cactos.com.br
Eddie Esteves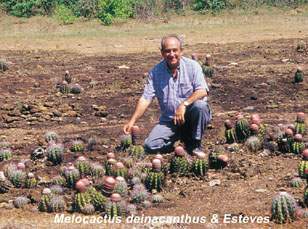 Photo 1. Meloсactus deinacanthus и М. esteves
The editor's desk
Today we are introducing "
The Paradise
", the most complete and biggest site about Brazilian cacti. On behalf of magazine readers we would like to thank Eddie Esteves for the photographs he granted us and we hope that our contacts will become regular (you can enlarge the first 6 photos by clicking on them). We admire the hard work of Brazilian scientists who put much energy into research and conservation ecosystems of Brazil. We wish them success in new explorations and progress in protection of Brazilian flora. For our part the editors of "Cultivar" magazine will be always glad to provide a tribune for stories about specific diversity of Brazilian cacti. We will be glad to discuss with them and our readers any help in this deed.
| | |
| --- | --- |
| | |
| Photo 2. Melo estevesii | Photo 3. Opuntia estevesii P.J. Braun |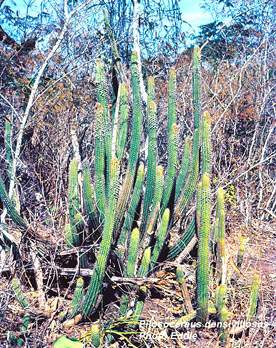 Photo 4. Pilosocereus densivillosus
Friends, 30 years ago we are working to identify and, to protect species of Brazilian cacti, in extinction danger. In recent research trip and exploration of new species, we found a beautiful habitat, still virgin, of the Melocactus deinacanthus Buining & Brederoo, (CITES - Appendix I), where we could find, besides, rare plants in crests form. We verified that only in that habitat thousands of Melocactus deinacanthus Buin. & Bred. exist and like this, we believed that it still remains a hope for that species. We are sending pictures of that Melocactus and of other rare cacti, for instance, the Opuntia estevesii P. J. Braun, as present to the editors of that Journal Cultivar; in gratitude for the kindness in they enclose our link into your educational site. The Paradise is the most complete and important site on the cacti of Brazil and it is still in constant updating. And new species are constantly shown.
We also opened space to publish the native bromeliads of the Cerrado, the second most important Biome of Brazil, only losing in diversity for the Amazonian Biome. The bromeliads of the Cerrado* are facing great extinction danger due to the indiscriminate deforestation for opening of new agricultural borders. For larger inclusion, some aspects of the nature are detailed, because Brazil has, in the general, the largest diversity of planet species and, its needs to be known and protected.
Thankful, Eddie Esteves
| | |
| --- | --- |
| | |
| Photo 5. Arrojadoa eriocaulis | Photo 6. Cereus jamacaru |
Protection by knowledge
In the early seventies we began our studies of Brazilian cacti. Today the questions of identification and classification need to be joined with efforts to understand the ecosystems and to propose activities for preservation, especially with the background of the rapid land devastion and the dying natural environment in Brazil. This refers particularly to "our" areas, the Cerrado* and the Caatinga**, where many endemic species are running the risk of extinction even before they have been known to science. Photo
*Cerrado – local name of Brazilian savanna, here – the name of ecosystem.
**Сaatinga – word of Indian origin which means "white forest" and describes the naked deciduous forest in dry period. This is a name of the Brazilian ecosystem occupying 850 thousands sq. km, deciduous forest, thorny bushwood well adapted to irregular precipitations and dry climat of north-east of Brazil.
The poster (size 38 x 60 cm) is a photo 7 montage and was composed by computer. It shows many species, mainly discovered and described by Dr. Pierre Braun and Eddie Esteves Pereira.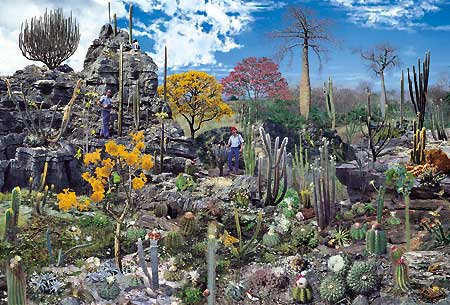 Photo 7.
July of 1976, we undertook an expedition to the habitats of cacti located in the sandy mesa plateau area of Bahia. Today, there are only rice and soybean plantations (photo 8).
Habitat of Discocactus prominentigibbus Diers & Esteves close to extintion (photo 9).
In 1977 we took documentary photographs in the state of Mato Grosso do Sul. Today this area has been taken over by rice and soybean plantations, too (photo 10).

Photo 8.

Photo 9.

Photo 10.
THE GREAT MARCH
Our work during these years was small considering the great amount of material that has yet to be studied. We have discovered and described dozens of new species of cacti, bromeliads, euphorbias and others, but for all that we are running without success against time and the destruction of their habitats. Dyckia marnier-lapostollei L. Smith var. estevesii W. Rauh almost extinct in their habitat due to the urban expansion (photo 11).
| | | |
| --- | --- | --- |
| Photo 11. | Photo 12. | Photo 13. |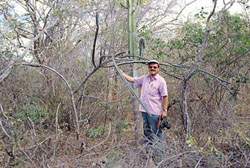 Photo 14.
In the following document ("Cacti and Succulents in Brazil", photo 12) friends of nature, in particular those who are interested in cacti and other accompanying plants have the opportunity to get an impression of our work with Brazilian cacti. Initially, we are showing the most important genera and the species we are dealing with for many years.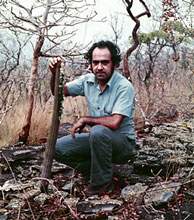 Photo 15.
As this site is in construction, in the future we will extend our information to all genera, species and subspecies of the Brazilian cacti. The first species named after Eddie Esteves was published in December 1975. Siccobaccatus estevesii (Buin. & Bred.) Braun & Esteves (photo 13).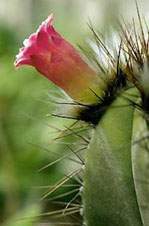 Photo 16.
In virgin habitats, surrounded by true Caatinga Dr. Pierre Braun feels really good. (photo 14).
Esteves in the habitat of Pilosocereus lindanus P. J. Braun & Esteves in September 1975. Today, this region has been transformed into a horse breeding farm (photo 15).
December 1999, a marvellous and also the last new species of the millenium was published: Pierrebraunia brauniorum Esteves (photo 16).