Petrov Yury Borisovich
(Tashkent city, Uzbekistan)
Valery Kalishev

He passed away 10 years ago. Unfortunately I didn't ask him about his education or job career neither did I ask him for a photo while we were exchanging notes and plants. I only know that he got into a car accident, stayed in hospital for a long time and became disabled. At that time he was interested in colored cacti, like me. He had taken interest in them before the accident. Here you will find an article written by Yury for a magazine and published in October, 1985. Nowadays the article may seem a bit naпve, but don't forget that it had been written in the end of the seventies.
COLOR MUTANTS:
the sun, water and some bits of practice
Petrov Yury (Tashkent city)
Colored or achlorophyllous cacti (containing little chlorophyll, to be exact) take more and more place in our collections. They are beautiful, no doubt. From the view-point of biology they are "parasites" and can't live independently, nevertheless they decorate our collections as well as cristate cacti. It is the case when men aesthetic views don't match with those of the nature.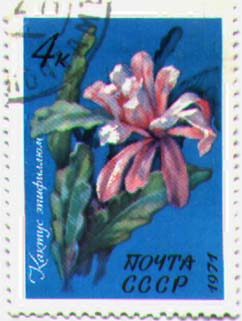 Photo 1.
Much have been written about colored forms and methods affecting the seeds in such a way as to raise the number of colored sprouts. Among them there are aging, ultraviolet and ionizing radiations, processing with chemicals such as colchicines, polycyclic compounds, tobacco pitch etc. All these methods just try to weaken the inheritance mechanism of the green in the seeds and to cause mutation by aid of a mutagen. These experiments are fairly important and cacti amateurs should be encouraged to carry them out, because once we can consciously influence a gene by a certain mutagen (in our case the gene responsible for chlorophyll synthesis), the scientists, for example, will be able to solve the problem of cancer etc.
There are plenty of natural mutagens: sunrays, radiation, temperature, humidity, chemical influence and so on. They became the base for the experiments carried out in the end of the seventies. I must admit that we at first only wanted to get the cacti grow in an abnormal way and to get cristate forms. We couldn't get crests, but instead there appeared cacti of different colors.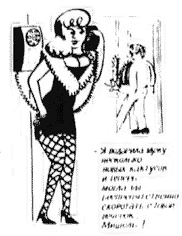 Photo 2. I presented several new cacti to my husband and now I can spend this evening with you, Michael!
The experiments ware carried out in hot summer days in Tashkent (the Republic of Uzbekistan, Asia), with windows facing west (the experiments carried out on the east window sill were not successful). The conditions were as follows: the hot sun appeared suddenly being in zenith, and had been scorching the cacti for some hours, then it disappeared behind the trees. After that the cold water was rushed upon the "red-hot" cacti (screened from the sun by paper). The aim of this shower was to strengthen the "sun-color" of the cacti. At least the shower was good in one way – it didn't allow cacti to lapse into heat stagnation and they continued to grow, though slowly.
Some sprouts and a number of small off-shoots from maternal plants were taken for the experiment. The preference was given to the off-shoots which differed in color from maternal plants. Sometimes among evenly colored off-shoots there appear yellowish or light green offsets. As to the sprouts, we chose those that were the weakest, faded or had deviations from normal color.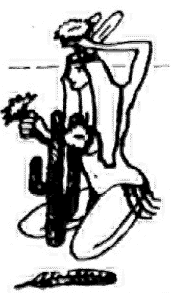 Photo 3.
All the chosen plants were grafted on Pereskiopsis or the top of a comparatively strong Echinopsis. After the scion filled out, the plant was exposed to "the execution": first it was placed into the screen shadow, then was gradually exposed to the sun in such a way that the plant just survived. The watering was done as mentioned above. These first two weeks and even days were crucial and responsible for the appearance of color in cacti. Two important details should be mentioned:
The iron watering can for the cold shower was always kept full in a cool place, and the water in it turned from light- to dark-brown from rust. This water was used for watering of the cacti. Later when a plastic can was bought the number of colored forms decreased. I had to add iron filings into the water.
The sun rays reached the plants through a double polished glass, that is they were filtered. Knowing the glass transparency specialists will easily define the spectrum promoting mutations.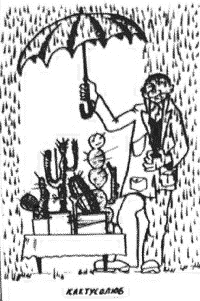 Photo 4. Cactophyle!
Meanwhile it is clear that the UV-rays so much needed by the ordinary green plants were filtered out. The experiments were successful and fruitful. But unfortunately they had to be stopped for reasons unrelated with the author.
---
In addition to these experiments he also tried to graft colored forms onto the colored plants. For the plants which were weak and ill he successfully used Lophophora williamsii as a stock.
Being ill and not able to take care of the cacti the author of the article took up collecting cacti badges, stamps and other cacti stuff. Moreover, he made special stalls and show-cases (like in museums) that were exhibited in cactus clubs for everybody to see them.
He dreamed of founding a museum dedicated to the development of cactus science not only in the Soviet Union but in the whole world. And this was perhaps the most valuable instant in his biography of a cactus-man.
That's how he described his hobby.
CACTUS LACE
Yury Petrov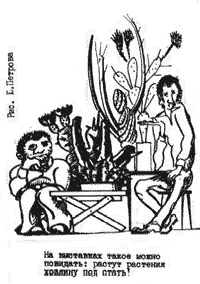 Photo 5. You see at shows what we meant: like owner like his plant!
The circumstances didn't allow me to indulge in collecting cacti for a long time, but I couldn't do without the "spiny fellows". So I had to find some way out. That's how the "parallel" way of collecting began. I gathered everything – books, posters, pictures, newspaper clippings, illustrations and stamps, medals and badges, photos and so on…. Everything relating to cacti! Then I came to an idea to create a kind of information center in my personal flat.
Gradually the gathered material was sorted out into different thematic groups. There I encountered some difficulties: there were few objects related to cacti and they were difficult to get. Nevertheless the home exhibition grew and it became apparent that such a foundation was worth creating. I'll dwell upon some topics of the collection: the badges. To say figuratively, this is the Soviet cactus club history, fixed in iron. The pictorial presentation is very important. A couple of badges in your drawer are nothing but the pleasant souvenirs. But collected together they show the history of cactus clubs and sections, meetings of different years – conferences, exhibitions, and seminars. This topic also includes medals, trinkets, little souvenirs and articles.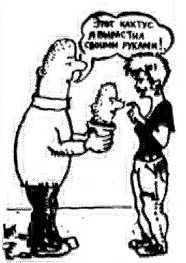 Photo 6. I grew this cactus by myself.
Stamps. The 3-meters-long stall represents the cactus theme in philately. It includes stamps, souvenir paper and so on. There you can see the famous Mexican stamp with an eagle on top of a cactus and also learn that a World Bridge Cup was held in Monaco under the cacti branches. You can also see the only Soviet cactus stamp issued in 1971.
The stall with objects from more than 50 countries of the world can tell you a lot… There are also a number of cactus landscapes, painted for international exhibitions, bas-reliefs, illustrations and drawings.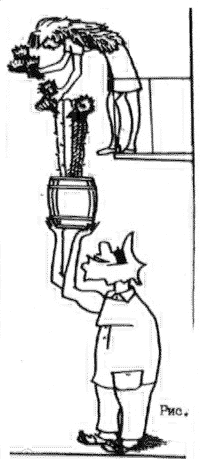 Photo 7. Flowers for my sweetheart!
What is the purpose of this exhibition? What inspires the author and the founder? There are several aspects: cognitive, historical, besides, the cacti are being popularized.
Material of this kind, unlike cacti, doesn't need much sunshine and can be displayed all the year round. The exhibition may serve as means of realizing the gift of a painter who wants to depict cacti in his work and it lets the spectators see the object of their passion in the pictures or in the form of a bas-relief.
Ta make a long story short I'd like to ask the reader a question: is there a point in creating a cactus exhibition called "Cactus Lace"?
---
Twenty years later we may surely answer that the idea is brilliant, as well as its performance. There has been done nothing of the kind either in Russia or in the former USSR Republics, and it is not likely there will appear something of this kind soon. It's a pity that after Yury's death there was no one in Tashkent to take up the Museum and to do his best to preserve it.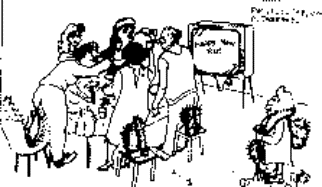 Photo 8. Happy New Vear!
I must mention that Yury also painted cacti pictures and contributed them to the magazines published in the Ukraine (the town of Sumy) and in Kazakhstan (Alma-Ata city). Here we represent some of these pictures.
Afterword. My acknowledgements to Natalia Kulebyakina from Tashkent city, who made her best to find out the destiny of the "Cactus Lace" museum.