Articles: WHAT DO YOU CALL US?
By Waleri Kalishev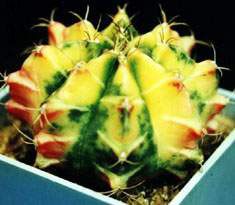 Gymnocalycium mihanovichii "Master Vatanabe"
Probably you have mentioned that terms "cristaten" and "monstrosa" - the forms of cactuses - are frequently used in publications. As for colored forms it is more complicated. They are called colored, low-chlorophyll, motley, cultivars, variegated and so on. In the USSR it was customary to call all the colored forms of cactuses low-chlorophyll (spelled with one "l"). According to the research of colored forms of Gymnocalycium made in 2000 by I.Skoulkin, Ph.D., "it is not correct to call low-chlorophyll most of colored forms, because there is chlorophyll in them though its quantity is not significant as a rule, but sometimes it is higher than in the initial plant Gymnocalycium mihanovichii var. friedrichii".
This conclusion is the result of thorough lab tests. Probably according to the presence of chlorophyll Mr. Skoulkin would divide all the colored forms into 3 groups as a minimum: chlorophyll-free, low- chlorophyll and chlorophyll.
The full text available in our Printed issue