OUR CONGRATULATIONS: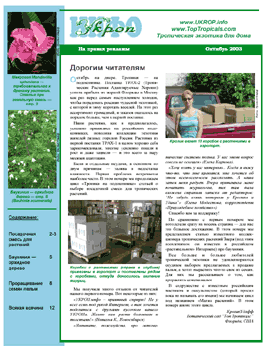 Our congratulations to the Informational Portal www.TopTropicals.com (Russian version www.UKROP.info) that has just issued a new online edition "UKROP.info", devoted to problems of indoor cultivation of tropical exotic plants.
The Monthly Bulletin "UKROP.info" consists of the following topics:
Jungle on Windowsill: secrets of growing exotic plants at home (soil, light, water requirements, etc.)
Meet the exotic plant: profiles of rare species
Magic of Plants: esoteric aspects of flowers
Plant Trivia: Interesting facts
Many of the subjects have been covered quite poorely in mordern sources, and this new endeavor will be certainly very useful for both tropical plant hobbyists and experts. The edition contains a large amount of beautiful quality pictures. Issues can be downloaded from www.TopTropicals.com/vestnik, so far in Russian, English version is coming soon.