THE ANNIVERSARY SHOW
Tatyana Tyushenko,
Secretary of the club "Aztekium-72", Odessa, Ukraine
translated by Irina Ten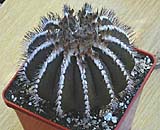 Photo 7.
The 30 year history of the Odessa cacti & succulents club "Aztekium-72" culminated in the anniversary show in May of 2002.
The organization of the anniversary show was not easy for us since we had no such experience and wanted it to be beautiful, well-organized and memorable. About a half year before the big date, an anniversary celebration committee was elected at a club meeting. Many questions were discussed: the number of guests, the agenda, etc. As a result we decided to celebrate the club anniversary for two days.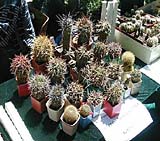 Photo 8.
On the first day there have been the Grand Meeting, the show and the party; on the second day – the continuation of the show and a conference. In front of the entrance to the building of Conservancy Council of Odessa Region there were placed two table rows where the members of the club and many of our guests were exhibiting their plants (Photos 1-6). The number of guests exceeded all our expectations. Guests were from almost all the cities of Ukraine and also from Moldova and Russia. I should say the show was a great success: I haven't seen so many beautiful plants for a long time. The club organized the contests for The Best Plant and The Best Collections. The Best Plant of the Show title was awarded to Uebelmannia pectinifera owned by V. Lipsky from Vinnitsa (Photo 7) and the Best Collections of the Show were named those of I. Sytnik from Kharkiv (1st place), Y. Sushak from Donetsk and Y. Ostroukhov, the member of our club (his collection is in Photo 8).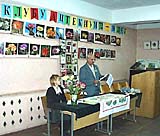 Photo 9.
At the Grand Meeting veterans and the most active members of the club were awarded diplomas and service medals (Photo 9-12). The hall was decorated with cacti photographs; there was an art exhibition stand with items made by members of our club: beads-made or hand-knitted cacti, pictures, post stamps and even puzzles with cacti pictures (Photo 13 – Irina Mironyuk at the stand). Cacti drawing were also exhibited in the hall.
| | | |
| --- | --- | --- |
| | | |
| Photo 10. | Photo 11. | Photo 12. |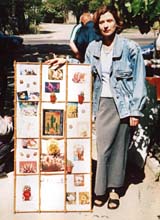 Photo 13.
The conference took place on the second day. A. Migach from Kiev reported on haworthias, a Muscovite N. Efremova presented a slide show of cacti shoot during an expedition to Brazil, and a member of our club A. Kvasnyuk displayed beautiful slides of lithops and conophytums.
The Anniversary celebration made a great impression. After all, the main goal was to reestablish the lost connections between Ukrainian cactophyles, and not only between them. This goal has been successfully accomplished; all the participants met each other face to face and also received "the Address Book of cactophyles of Ukraine and countries of CIS" (Photo 14).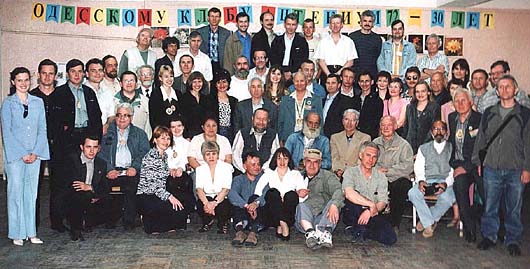 Photo 14.