OUR PHOTO GALLERY: CEREUS
Valery Kalishev
Dear readers of our e-magazine! In this issue we continue to publish photos of anomalous cacti grouped by genus. The previous issues of the Photo Gallery were dedicated to the unusual forms of cacti from genera Astrophytum (#18), Gymnocalycium (#22, 23), Ariocarpus (#25), Rebutia (#26).
Today we have selected for you 23 photos of crested, monstrose and variegated cultivars from the genus Cereus. We hope you'll like them!
We will be happy to get from you the photos of your plants.
For some reasons we were unable to obtain permission for publication from ALL the authors and site owners and we must make an apology therefore. In case of complaints the photos will be immediately removed from the Photo Gallery.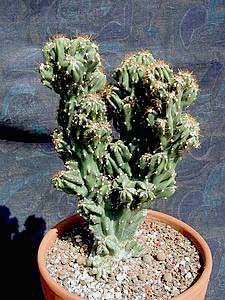 Photo 01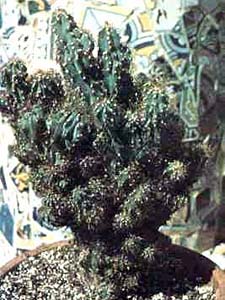 Photo 03
On photos:
Photo 01 Cereus peruvianus f. monstrosa
Photo 02 Cereus peruvianus f. monstrosa
Photo 03 Cereus sp. f. monstrosa
Photo 04 Cereus peruvianus f. monstrosa
Photo 05 Cereus peruvianus f. monstrosa
Photo 06 Cereus peruvianus f. monstrosa
Photo 07 Cereus forbesii 'Spiralis'
Photo 08 Cereus variabilis f. monstrosa
Photo 09 Cereus peruvianus f. monstrosa
Photo 10 Cereus peruvianus var. tortuosus
Photo 11 Cereus sp. f. monstrosa
Photo 12 Cereus peruvianus f. monstrosa
Photo 13 Cereus sp f. monstrosa
Photo 14 Cereus sp f. monstrosa
Photo 15 Cereus peruvianus 'Clyde'
Photo 17 Cereus variabilis f. monstrosa
Photo 18 Cereus variabilis f. monstrosa
Photo 19 Cereus (Monvillea) spegazzinii f. cristata
Photo 20 Cereus sp. f. monstrosa
Photo 21 Cereus tetragonus f. monstrosa f. variegata
Photo 22 Cereus peruvianus f. monstrosa 'Ming Thing'
Photo 23 Cereus peruvianus f. monstrosa

The source of photos:
Photo 2, 20, 21. http://www.miles2go.com/crest.htm
Photo 4-11. http://rschoi.com.ne.kr/charact/cereus.htm
Photo 12-14. virtual collection of "Cultivar" magazine
Photo 15. http://www.cactuspro.com/
Photo 17-19. From the virtual collection of the e-magazine Cultivar
Photo 22. http://www.wstarke.de
Photo 23. http://www.cactus-art.biz
| | |
| --- | --- |
| Photo 04 | Photo 06 |
| Photo 07 | Photo 08 |
| Photo 23 | Photo 11 |
| | | |
| --- | --- | --- |
| Photo 12. | Photo 13. | Photo 14. |
| Photo 17. | Photo 18. | Photo 19. |