THE CACTI SHOWS IN KIEV
Elena Ivanova, Natalia Andreeva
Translated from Russian by Irina Kalmykova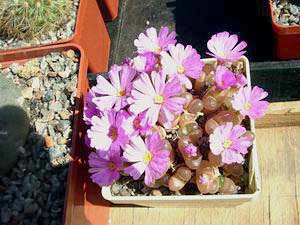 Photo 1.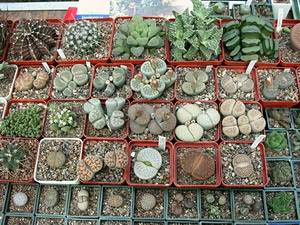 Photo 3.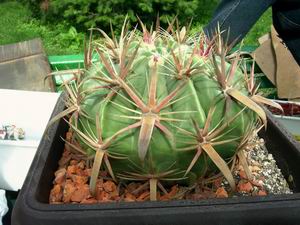 Photo 5.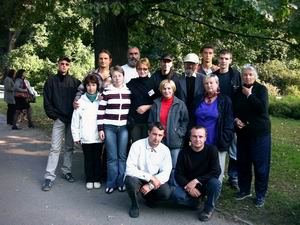 Photo 7.
Our photo report is dedicated to the shows which took place in Kiev (the capital of Ukraine) in spring and autumn. For the second time this year The Cacti and Other Exotic Plants Show was hosted by the Botanical Garden of the Kiev National University.
Many hobbyists from Kiev and other Ukrainian cities took active part in the show. There were a lot of visitors to the shows, especially over the weekend.
Local media did their best to highlight the shows: the Kiev TV channel ICTV did a report from the succulents greenhouse, several Kiev newspapers printed interviews with the people who arranged and run the shows and also published reports on both events.
There were exhibited many cacti, caudiciform plants and leaf succulents, also there were plenty of in-door plants.
Photos from this show:
Photo 1. A blooming Ophthalmophyllum from collection of Grigory Mukhin from Fastov.
Photo 2. Pachypodium geyi from collection of Yuri Norenko from Brovary.
Photo 3. These Lithops plants have been exhibited by Victor Gorbachev from Nikolayev.
Photo 4. Astrophytum myriostigma has been grown by Sergei Chekhovsky from Kiev. The plant has been cultivated under the name of v. quadricostatum, but later developed the fifth rib.
Photo 5. Ferocactus latispinus from collection of Igor Sytnyk from Kharkiv.
Photo 6. Cotyledon undulata belongs to Tatiana Ketsko from Kiev.
Photo 7. Participants of the show with their exhibits.