UNUSUAL IN YOUR COLLECTIONS
In this issue we present to you some abnormal plants specimens from collections of Nataliya Andreyeva (Kiev, Ukraine), Denis Gil and Daniila Simonenko (Adler, Russia).
NATALIYA ANDREYEVA (KIEV)
A leaf of variegated Crassula obliqua cv. 'Solana' put out several offsets with absolutely no chlorophyll at all. They grew while the parent leaf was alive. Unfortunately, later on the plant died (photo 1).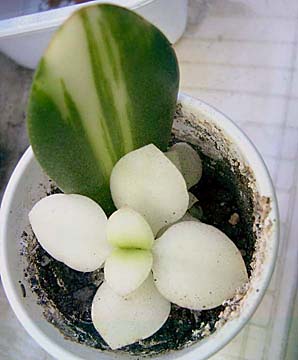 Photo 1. Crassula obliqua cv. 'Solana'
A leaf of Echeveria pulvinata produced a flower stalk instead of a rosette. It happened while this species of Echeveria was blossoming. Soon after the blossoming period was over the usual rosette developed (photo2).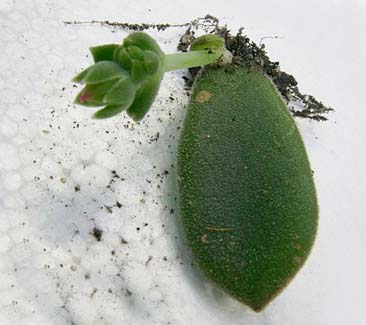 Photo 2. Echeveria pulvinata
Huernia keniensis developed a 6-petaled flower instead of a standard 5-petaled one (photo 3).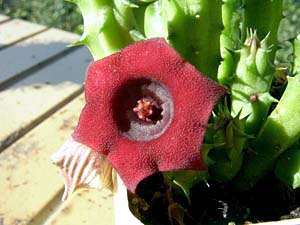 Photo 3. Huernia keniensis
---
DENIS GIL (ADLER)
In spring 2004 a Crassula hemisphaerica put out a curious shoot. It had three joined leaves instead of two, as is usual (photo 4). The plant is not branching yet. Right now it's not clear what kind of shoots it might develop.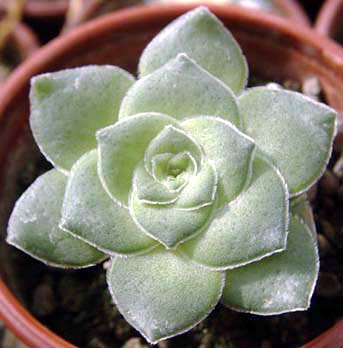 Photo 4. Crassula hemisphaerica
In July 2004 a specimen of Crassula perforata has produced a side shoot with alternate leaves instead of standard opposite leaves (photo 5).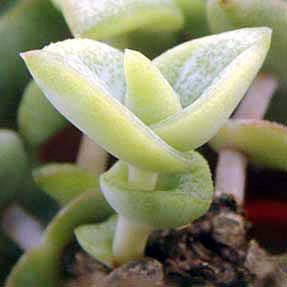 Photo 5. Crassula perforata
This Faucaria hybr.— a plant from Mesembryanthemaceae family— produced an abnormal shoot with three leaves in a verticil (photo 6). Normally the plant has opposite leaves arrangement.
Photo 6. Faucaria hybr.
---
DANIILA SIMONENKO (ADLER)
These photos were taken in the beginning of August 2004. The Euphorbia mamillaris f. variegata pictured in Photo 7 produced a white offset completely devoid of chlorophyll (on the right).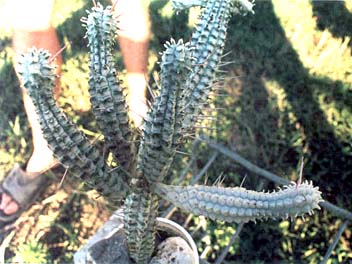 Photo 7. Euphorbia mamillaris f. variegata
Two abnormal specimens of Lithops with single leaves (photo 8, photo 9).
| | |
| --- | --- |
| | |
| Photo 8. | Photo 9. |