ROBERT FONTEYNE AND HIS HYBRID ECHINOPSIS
Igor Tchernodola (Belgium)
Translated from Russia by Larisa Zaitseva
Robert Fonteyne is the chairman of "Grusonia"--the Western Flemish association for C&S hobbyists. I made his acquaintance when I became a member of this association. I often pay him a visit and over a cup of coffee we share our impressions of "C&S life" in Belgium and Russia.
Once I remarked that in Russia there was a common saying which sounded like "Show us your Echinopsis and then we'll know how good you are as a cacti grower."
"But why Echinopsis?" - Robert was rather surprised. "Here in Belgium we say, "Show us your cacti, and then we'll know…" But if you wish to stick to this Russian saying then let's go, I'll show you my Echinopsis…"
I have always had a deep respect for those people who manage to find something peculiar in their hobby. Robert turned out to be one of these people. When we entered his greenhouse and I perceived his Echinopsis plants I understood at once that he was a marvellous grower.
Robert has been keen on cacti for more than 30 years and the larger part of this period he has spent crossing and hybridizing plants from genus Echinopsis trying to get specimens with large and originally colored flowers. His hobby is not just a random cross-pollination of plants with differently colored flowers but a well thought-out and knowledgeable work. Robert uses for cross-pollination such genera as Trichocereus, Helianthocereus, Lobivia, Aporocactus, Cleistocactus and even Epiphyllum! But let's begin from the beginning.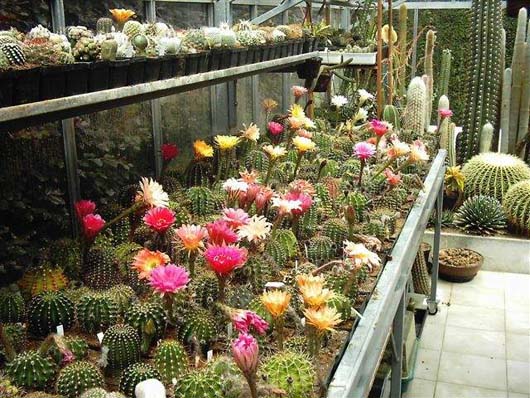 Photo
Hybrid Echinopsis in Robert's greenhouse
A bit of history
Echinopsis has been known long ago as a popular indoor plant. The first cacti from this genus appeared on the windowsills in Germany circa 1830. But even before that Echinopsis had already been known as a rarity in Europe.
Cacti from genus Echinopsis are easy in cultivation. They are not very demanding and may grow in the half-shade, and they have big and very beautiful long-tubed flowers.
Initially the plants in collections had only white flowers (with some exceptions). But as the time went by there appeared specimens with colored flowers thanks to cross-pollination with Lobivias. The first originators of the Echinopsis hybrids were specialists from Europe such as Graeser from Nuremberg, Leinig from Weinheim, Doctor Schmidt from Heidelberg and Wessner from Muggensturm.
After this first wave of intensive hybridization there came a pause. Many hobbyists from Germany, Austria and Holland took to keeping in their collections strictly "natural" and "pure" species.
But already in the beginning of the World War II an originator Harry Johnson from California, USA had shown his achievements in Echinopsis hybridization. Using available hybrids of Echinopsis he produced the famous Paramount hybrids. It's a great pity that he didn't took detailed notes of the cross-pollination lines he used.
In 1968 the first working group on Echinopsis hybrids was organized in Germany. The members of the group Doctor Braun, Killian and Doctor Stauch contributed noticeably to Echinopsis hybridization. They published the results of their work in the booklet "Stechelpost". But in 1974 the "Stechelpost" was closed down and the organizers of the group also stopped their activities. Only some enthusiasts continued to experiment such as Gerhard Groener and some hobbyists from Austria and Czechia.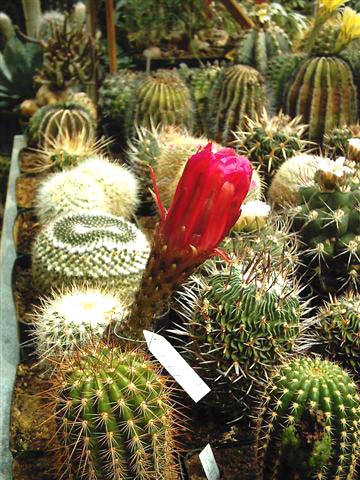 Division of Echinopsis hybrids (according to Robert Fonteyne)
Backeberg divided Echinopsis species into two groups. The first group includes plants from the plains of Uruguay, north-east of Argentina and south of Brazil. The second group (under the common name of Pseudolobivia) includes plants growing in the mountain regions of Bolivia, Peru and to the north-west of Argentina.
Recently some taxonomists enlarged the genus Echinopsis by including into it such genera as Lobivia, Trichocereus, Helianthocereus, Soehrensia. Indeed, these plants are as a rule successfully cross-pollinated and this may point to their common origin and relatively recent evolutionary division. Nowadays this genus contains about 120 species of South American cacti.
Group 1: hybrids of Echinopsis from plains
This group unites such hybrids as Stars & Stripes, Fric Orange, Abricot Delicht, Golden Dream, Peach Monarch, Maurits Boens, Johnsons Salmon and many of Paramount hybrids which are too numerous to list here.
Group 2: hybrids of mountain Echinopsis
This group unites such hybrids as Orange Glorie, Rubin van Muggensturm, Andenken an Fric, Heidelberg, Geisenheim and other.
Group 3: hybrids with species of Tricho- and Helianthocereus
Hybrids of this group have typically columnar or branching growth as in Helianthocereus. Plants with prevailing Echinopsis-line have shorter and stouter stems. Hybrids of this group have often very powerful and beautiful stems and marvelously colored flowers.
Group 4: hybrids with odd genera
Hybrids belonging to this group had appeared after cross-pollination of Echinopsis and plants from genera Epiphyllum, Aporocactus, Cleistocactus, Hildewintera and some others. Often such cross-pollination brings no results but occasionally the pollinated plants bear fruit. Hybrids of this group are often used as "intermediate" plants for further cross-pollination in order to obtain flowers with unusual form and coloring. Crossing of Echinopsis and Cleistocactus results in plants with wonderful and extraordinarily formed flowers but such hybrids are very rare (Hovel, 1964 and Strigl, 1979). Crossing of Echinopsis and Hildewintera is more successful as a rule especially if Hildewintera serves as a mother plant. These hybrids have hanging stems and beautiful flowers resembling those of Echinopsis in miniature and they are blood-red tinged with rosy.
Hybridization of Echinopsis often brings to life new plants which are more attractive and interesting than their parents. The spines and stems of these plants may be quite striking in their appearance. They've got wonderful huge flowers with variously shaped petals and gorgeous coloring. The flowers may also stay open quite a long time.
There are though some unsolved problems. For example it's a hopeless task to cross-pollinate Echinopsis and certain Lobivias. Nobody yet had any success in transferring the black throat of Lobivia jajoiana flower to that of an Echinopsis. The attempts to produce a pure white flower with a black throat in Lobivia also failed.
Propagation of hybrid Echinopsis by seeds gives large percent of the so-called "invalid" plants--that is the plants refusing to bring flowers. That's why a hobbyist should select the most promising forms and remove without remorse all the other hybrids from his collection so as not to clutter it up.
In short the work on Echinopsis hybrids may take up one's whole life.
Robert tells: "My interest in these plants dates as far back as 1979 when I visited "Jardin Exotique" in Monaco and brought with me about a dozen Echinopsis hybrids (two of the plants were Paramount hybrids). Later I ordered by mail a few plants from Max Schleipfer. These multihybrids were cross-pollinated with 'Johnson Salmon' producing plants with wonderfully colored flowers of unusual form. Step by step my collection grew…"
In the eighties there appeared a new group for Echinopsis hybrids fanciers. The group was called DKG and had united the growers from Germany, Switzerland and Austria. Beginning with 1987 the group started to publish a booklet "Kringpost" and in 1994 began producing a small magazine.
Every year in April the members of this working group gather in Wiesbaden (Germany) to hold a two-day cacti-festival. Robert Fonteyne is also a steady participant of the festival.
---
Comment: author of hybrids on photos is Robert Fonteyne (except that are marked specially).