MEET ANNA GRIGORIEVA (Almaty, Kazakhstan)
by Valery Kalishev
Translated by Irina Kalmykova (Krasnodar, Russia)
Photo 1. Anna Grigorieva.
Editorial note. How many of our readers can imagine a seriously-fond-of-cacti nine-year-old girl? Nearly few can! However, meet Anna Grigorieva (Photo 1, 2) from Almaty, the capital of Kazakhstan. She was the one who came to a local cacti lovers club at the age of nine. The most astonishing fact is that she's still faithful to cacti. Nevertheless, she still has a little peeve on the club members because none of them would take her seriously at first. A child is a child, skips from one thing to another. But years went by and yet the girl kept attending the club classes. She still does and it's been already thirty years! Back then the club used to take one of the leading ranks among the others in the former Soviet Union and the club chairman, Andrey Sokolov, was one of the initiators who started association of all the USSR clubs (we wrote about him in detail in Cultivar magazine issue 7 (8) August, 2001).
Anna is amazingly energetic. Just think about it: she has got a hundred percent mannish job (spare parts for foreign-made cars), seventeen-year-old daughter (the awkward age with all that it implies), fond of cacti and flower plants (a chairperson of "Astrophytum" cacti club and "Galanthus" floricultural city club with many sections), owns a country house with two (yet for now) greenhouses with total area more than 120 square metres, organizes and runs numerous city exhibitions and plenty of other works.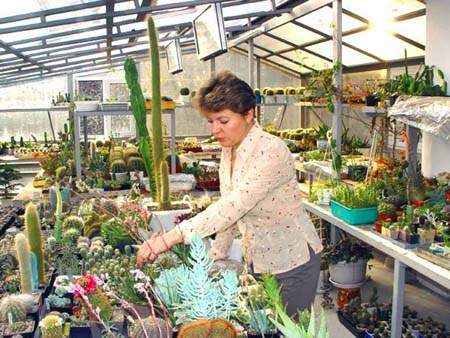 Photo 2. Анна Григорьева в своей теплице.
Here is what she says about herself:
I have been attending the Club since 1973. However, who takes a nine-year-old seriously? Especially a nine-year-old girl. So I grew by my own and basically occupied myself with self-education. The idea of club itself seemed very interesting to me! It still does.
I graduated from Kazakh university, Geography department, majoring in land hydrology. Unfortunately, I never got to work according to my major field of study because of the hard period in the USSR and its breakup. For the last 12 years I have been running my own business rather successfully. I like spending my money only on plants and associated goods. Other purchases do not bring much pleasure to me. I had my high and low moments during these years of cactus hobby. For example, I lost all my collection because of the frost in 1993. For the next several years I did not deal with cacti, but with other plants, mostly outdoor plants. But when in 2000 I went to Germany and saw the glut of cacti in the stores, something trembled inside of me... I bought plenty of cacti. Some months later my friend Vladimir Epiktetov (who also attended "Astrophytum" club since his childhood) and I rang up and called on all the former club members and everything started all over again. We started reviving the club.
The next year I was elected chairperson of the reanimated club. Of course, it's flattering but at the same time it's a great responsibility. Andrey Petrovich Sokolov (I consider myself to be his alumnus) raised the level of the chairperson very highly. It is not easy to correspond to this level but I am trying hard. Nowadays there are 25 people in the club. More than half of them are young ones, which is hope-bringing. I've been receiving seeds from Germany for myself and for the club during 3 recent years. And you can't even imagine how many interesting things China supplies us with! Not to mention coloured cultivars of all possible colours and shades. For your information: all the cacti are from South Korea, literally sold by weight with an open root system. A lot of plants also come from Iran.
Considerable replenishment of the club with new members happened after one of our activists and I got to make a twenty minutes live broadcast about cacti on a republic-wide TV-channel. We had great success – all the republic found out about us. All the other channels at a time wanted to come over and interview us. Articles appeared in local press. There was even a delegation of flower-growers from The Kyrgyz Republic there.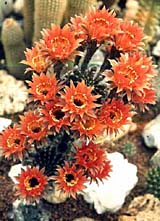 Photo 9. Echinopsis hybr.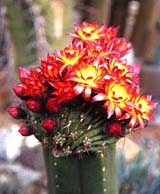 Photo 10. Matucana sp.
My personal collection is not very big, but I have plans and means to make it bigger. I sow a lot. I'll just say that back in 2003 I sowed around 40,000 seeds. Although there were less seeds in 2004, all of them were our own Almaty seeds. And germinatation rate of our local seeds is not the same as of the imported ones! So, I guess we'll still have things to take care of.
(Editorial note: a separate article about her method of sowing is being redacted).
Three years ago I bought a house in the mountains intentionally to devote myself to the plants. I have a rather good collection of garden and indoor plants. However, the absolute priority belongs to cacti and succulents! After they were moved into a greenhouse they got a completely new look in just a month, even though I used to take them to my summerhouse every year. The greenhouse is made of polygal. This material is very hard, one can walk on it, it can't be broken neither with a rock nor with an axe, I think. A sheet can be bent into an arc longways. It can be assembled into a frame of any shape. All the construction can be sealed with regular silicon. It's an ideal material for greenhouses! In August 2003 I finished constructing the second greenhouse with total area 60 square metres (Photos 2, 3).
Forestalling relevant questions, I'll say that at present moment I have an assistant who has perfectly mastered grafting, pricking out and many other things in a year. And it is going really great, I hardly make it to prepare soil in time!
I'll predict another question – WHAT FOR? I want to have a cacti nursery-garden. I've been dreaming about it all my life! I suppose I have already started establishing it. I have all the necessary things to make it – ideal climate conditions, knowledge and experience, public interest, and grand desire!
Photos 4-8. Plants from Anna Grigorieva and Vladimir Epiktetov's collection.