MULTIPLE GRAFTING
By Dr. Muhammed Hasan, Karachi, Pakistan

Photo 11. My collection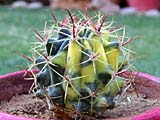 Photo 12. A variegated Ferocactus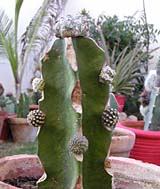 Photo 13. Vertical grafting: Astrophytum, Rebutia, Mammillaria, Echinopsis on Hylocereus stock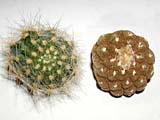 Photo 14. Step 1 - Uebelmannia flavispina and Neoporteria esmeraldana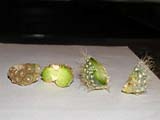 Photo 15. Step 2 - cacti are cut in equal halves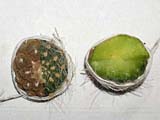 Photo 16. Step 3 - the halves are tied together with a thread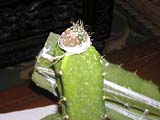 Photo 17. Step 4 - a composite scion is grafted to the stalk
Grafting is a science as well as art of the plant propagation. Multiple grafting was a novel custom in olden days in India, especially on mango trees. They used to graft seven different varieties of mango branches on one tree, resulting in seven different types of mangos from a single tree.
I tried various experiments on cacti grafting with various stocks and scions (see Photos 01-13). One of the most amusing experiments I tried was a multiple graft technique when you mix 2, 4 or more differently coloured specimens or even species, grafting them on a single stock (see Photos 18-34). The idea of cutting scions vertically in 2 halves or more parts and joining them with each other and later grafting to a stock, looks quite a blunt and aggressive procedure. But it results in differently and novelty-looking cacti.
As far as the success rate is concerned, it is less than the normal grafting. It is remarkable to study different species of cacti conjoint with each other and grown on a single stock, hence getting nutrition from the stalk as well as from each other. It is yet to determine which of the different species of cacti are compatible, and comply with each other. The growth rates of different cacti should also be taken into consideration in this type of grafting.
PROCEDURE
Take 2 or 4 equal sized globular cacti for scions (Photo 14).
Cut in 2 or 4 equal sized pieces vertically, as we slice an apple from above downwards (Photo 15).
Make sure that the cut should be exactly from the centre of growth point.
Join both different scions with each other by a cotton thread tied around them (Photo 16).
If you want to make a 4-part scion, cut 4 scions vertically in 4 pieces each, and tie all 4 different scions with each other hence making all 4 parts into a single round scion.
The art comes here when you are joining 4 different pieces, from different species or differently coloured cacti into a single scion.
Make sure that all the cut surfaces are absolute flat and clean. And check that not even a minor foreign body or an air bubble is present in between the cut surfaces. It can easily destroy the graft. It is important that all the cut surfaces should be exactly approximated hence no raw cut area be exposed.
Take a proper healthy stock. I normally use Hylocereus or Stenocereus pruinosus. It is beneficial if the stock has been previously prepared for rooting.
Now cut the multiple scions from the base as done in normal grafting (Photo 16).
Attach the scion to the stock in the usual way (Photo 17).
Keep the graft for several days in proper humidity. And later on, take the thread off carefully.
The 'Multiple Graft' is ready.
---
About author:
M.B,B.S. MCPS (Member College of Physicians and Surgeons of Pakistan. This is a medical post graduation. I have specialized this in Chest diseases and Tuberclosis, I am Physician and Chest Specialist;
Executive Council Member, Show Chairman, Publication Incharge of CSSP (Cactus and Succulent Society of Pakistan. This society is based in Karachi and have nearly 70 members).
---
| | | |
| --- | --- | --- |
| Photo 18. Mammillaria supertexta & Sulcorebutia | Photo 19. Notocactus & Rebutia | Photo 20. Differently coloured Rebutias and a Gymnocalycium |
| Photo 21. Two different Astrophytums on one stock | Photo 22. Rebutia & Notocactus | Photo 23. Rebutia & Gymno |
| Photo 24. Two different Rebutias | Photo 25. Two different Astrophytums on one stock | Photo 26. Step grafting and side grafting |
| Photo 27. Scions made of sliced Rebutias and sliced Astrophytums | Photo 28. Differently coloured Gymnocalyciums grafted one after another | Photo 29. Different Gymnocalyciums and Rebutias |
| Photo 30. Three different Gymnocalyciums grafted one after another | Photo 31. Rebutia & Gymnocalycium & Notocactus | Photo 32. The scion is made of Rebutia and Notocactus |
| Photo 33. Mammillaria bocasana and Neolloydia valdeziana | Photo 34. Green and red-coloured Gymnocalyciums grafted one after another | |