Cacti of the Mojave desert in Joshua Tree National Park
by Vladimir Malov (Vlani), Mountain View, California USA (Silicone Valley)
Translated by Irina Kalmykova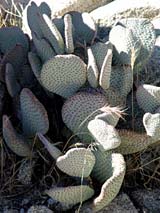 Photo 8. Opuntia basilaris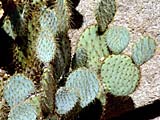 Photo 9. Opuntia chlorotica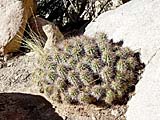 Photo 10. Echinocereus mojavensis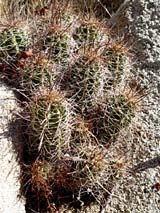 Photo 11. Echinocereus mojavensis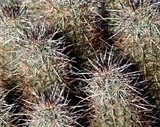 Photo 12. Echinocereus engelmannii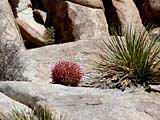 Photo 13. Ferocactus cylindraceus и Yucca mojavensis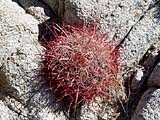 Photo 14. Young Ferocactus cylindraceus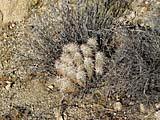 Photo 15. Echinocereus engelmannii
Joshua Tree National Park is two hours drive from Los Angeles to the east, freeway 10. The park territory consists of two different types of the south-east American desert. They are the Mojave and the Colorado deserts. There are around 700 species of plants, including about 10 cacti species.
This time we visited Joshua Tree on weekend, October 30-31. It had been raining during last two weeks in the south of sunny California and here in the mountain desert as well. Even though there were no clouds in the sky any more, there still were some puddles on a new asphalt road running through the park, and sandy soil was soggy, too. The night temperature dropped below zero and the car got covered with hoarfrost. But during the day time in spite of cold wind it became quite warm, at least in the sun.
The park is situated in a wide flat valley surrounded with low rocky hills. The altitude is approximately from one kilometer at the bottom of the valley to a kilometer and a half on the hilltops. There are some low granite rocks around the bottom area of the valley. These yellow granites and low trees Yucca breviflora ("Joshua Tree") growing on the bottom of the valley form the local landscape (Photo 1-3).
There are bushy, a little bit higher than waist-high, Cylindropuntias growing among the Joshua Trees and different kinds of chaparral on the even valley bottom. I met Cylindropuntia echinocarpa ("Silver cholla") with thick light grey spines (Photo 4-5) and Cylindropuntia ramosissima ("Pencil cholla") with delicate segments covered with long yet thin - one per areola - unstable spines (Photo 6). There is also Cylindropuntia bigelovii ("Teddy bear cholla") with thick yellow spines which grows and even forms thickets in the park.
Neither Joshua Trees nor Cylindropuntias grow near or on the rocks. However some opuntias do. Among them there is an extraordinary ornamental plant Opuntia basilaris with middle-sized fat pads shimmering blue and big pink flowers (Photo 7-8), and Opuntia chlorotica which is much bigger than the previous one and often looks like a small tree with round or oblong pads sized like a big man's palm, also shimmering blue with long yellow spines (Photo 9).
Among the rocks there are also some Echinocerei - Echinocereus mojavensis (Photo 10-11) and Echinocereus engelmannii (Photo 12), Ferocactus cylindraceus (Photo 13-14) and Escobaria deserti which is a rather rare species here.
Echinocereus mojavensis, in my opinion, is the most interesting cactus among the rest in the park. This species often forms large, more than a half a meter in diameter, clumps with more than a hundred of heads (Photo 10). Sometimes the plants grow in sand stuffed rock cracks. Such plants are small, they only have several stems. The plants have arced eight centimeters long spines. Their color varies from dark brown to grey as it gets closer to a stem. All the Echinocereus mojavensis I have seen grew on the south side of the rocks. At the same time the plants growing by shady rocks and bushes looked much stronger.
Even though it doesn't happen very often Ferocactus cylindraceus with solid bright pink spines (Photo 13-14) grow together with Echinocereus mojavensis. I did not see very big plants, although, as far as I know, there are some Ferocacti one meter and higher in the park as well. The biggest Ferocactus I met was sized like a very large water melon.
Echinocereus engelmannii grow separately from mojavensis and it is not clearly understood why. Echinocereus engelmannii neighbors with Opuntia basilaris. Unlike mojavensis, next to Echinocereus engelmannii there may also be Cylindropuntia echinocarpa and Cylindropuntia ramosissima. To my mind, it means drier conditions. Echinocereus engelmannii often grows out of low bushes, apparently using their shade while tender-aged (Photo 15). Sometimes one might also find Escobaria deserti growing next to Echinocereus engelmannii.
In my opinion, about half of the soil here in which the cacti and all other plants grow consists of sand and fine granite gravel with quite high percent of organic remains. The upper layer consists of washed fine gravel. That is why it looks dry even after two weeks of raining. A couple of centimeters deeper, right after that layer the soil is soggy. Ninety five per cent of precipitation happens in autumn and in winter. During these seasons the soil does not get dry and remains constantly soggy for several months because of low temperatures. Night frost is normal during this time. Maximum day temperature may vary from 10 to 25 degrees on different days. During the cold time of the year cacti soak up water for a year ahead which somehow does not get along with generally accepted cacti growing technique.
I tried to pick some seeds but all I could find were empty bird or worm-eaten dry fruits. As far as I see, it is too late to pick up seeds at the end of October. Dead and mummified plants can be met rather frequently. Evidently a spiny shell gets preserved for many years. Dead Ferocacti look especially weird. In place of a dead plant there is an empty cage entirely made of solid and bony-firm spines intertwined with each other.
I did not find any really young plants. The youngest ones were 10 years old by my reckoning. Apparently, particular conditions for the seedlings to be able to go through 9 rainless months do not come into being very often.
We would like to thank Oleg Pikalev for permission to use the Russian original from his site www.cactuslove.ru.