THE PRESIDENT OF ISRAEL CACTI SOCIETY
Dmitriy Semyenov
Specially for Cultivar magazine
Translation by Irina Kalmikova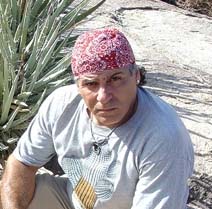 Let me introduce to you the president of Israel succulents-lovers society Shmuel Matityahu. Unfortunatelly, it was the only amateur collection that I got to see during my trip to Israel. And yet it was one of the most remarkable and interesting collections that I have ever seen. Naturally, it`s very large. It covers the whole area of Mr Matityahu`s city house`s garden. Even though the garden is not very big, it consists of terraced stages with narrow lanes in between. The owner of this collection is a sportsman and obviously it`s not a place for overweight people.
Some stages are protected from winds and rains with light walls and a tent. However, generally the plants are in the open air all year round. The next things that impressed me immensely were extraordinary largeness and completeness of the collection. Mr Matityahu calls himself a haworthias collector. He has got all known species of ones! And even more as he selected several wonderful sorts. But he doesn`t put himself into haworthias limits. Almost all popular sorts of cultivated succulent plants are fully represented in his collection: most of all the cacti, huge amount of aizoaceae, the rarest miniature euphorbias, worthful asphodelaceas, interesting pachypodiums and many other plants. The only thing that does put the owner into limits is the belonging of the plants to succulents.
One can be really impressed by Mr Matityahu`s botanical accuracy and actual knowledge of all latest data of both, succulentology and selection. Just like all enthusiastic collectors he is especially sensitive about all the novelties, such as newly described, fancy kultivars, exquisite abnormal forms. Lots of such plants that have just recently become popular are already on the shelves of Mr Matityahu. Sometimes he goes all the way across the Earth to get some of them. Nevertheless, old-fashioned, classical forms are also respected in his collection: you can find beautiful exemplars of nearly forgotten species, too. Among them there are also some really old veteran-plants that are hard to be found even in age-old greenhouses.
Another outstanding quality of Mr Matityahu`s plants is aestheticism. Every exemplar of this vast collection is absolutely healthy, neat, clean, as if it has just been groomed for an exhibition, without a single stain or flack. Each plant has specially selected best-fit top drain and a stylish pot. The owner is laughing because sometimes the pot (china ceramics) is even more expensive than the plant. All the collection consists of endless lines of little pieces of designers` art works.
However, that`s not it. Being a creative man with a peculiar sense of humour, he does unusual and funny plantings. Here is a completely astonishing exemplar: in a hanging pot there grows a gorgeous Mammillaria (Cochemiea) pondii and another plant, Mammillaria matudae, grows down out of the drain hole, which looks like a mirror reflection!
Extraordinary people engage themselves in serious cacti-growing! Shamuel Matityahu does everything in his collection all by his own in his free-time (actually, he`s a PE teacher). At the same time he copes with around-the-world-travelling, the Society managing, and world succulentology events outwatching. He has a hobby, too... he goes in for jewellery! From the editors. You can find out more about Mr Matityahu`s collection on his page www.maticacti.com/ and partially in our assembling
| | | |
| --- | --- | --- |
| Photo 5. Geohingtonia f. cristata | Photo 6. Eriocactus leninghausii | Photo 7. Tefrocactus |
| Photo 8. Mammillaria (Cochemiea) pondii | Photo 9. Haworthia fasciata f. variegata | Photo 10. Ariocarpus |
| Photo 11. Lithopses in Shamuel Matityahu`s collection | Photo 12. Paradoxial Mammillaria composition by Mr Matityahu | Photo 13. Haworthia |
---