Anomalous from Shmuel Matityahu's collection
Part 1: Cacti // Part 2: Succulents
All photos from site www.maticacti.com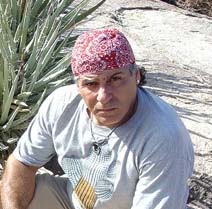 Hi, my name is Shmuel Matityahu.
I've been collecting cacti and succulents since 1975.
In my collection about 3000 different sp. For the last 10 years i'm the chairman of the Israeli cactus and succulents society.
I mostly grow my plants from seeds which I graft at the age of 1 month. I usually graft on Myrthylocactus geometrizans.
I have a great collection of: Lithops, Haworthia, Euphorbia, Astrophytum, Uebelmannia, Ariocarpus, Caudex. My internet site is here: www.maticacti.com.
I hope you'll enjoy the Web. All pictures were taken by me with my Sony F828 and Sony MVC-CD 500, in my collection accept at Woody's collection in Little rock CA.
I want to thank Woody for letting me take these pictures in his delightful collection.
---
From Editor: We are publish in Cultivar only small part of photos, which you can find on the site www.maticacti.com of Shmuel Matityahu. His site contain very big photogallery with very high quality plants (but photos not optimize by size in bites: file size is very large: 250-400Kb for photos 700x525px).

Euphorbia enopla

Euphorbia lactea

Euphorbia lactea f.crestata

Euphorbia millii

Euphorbia piscidermis

Euphorbia piscidermis

Euphorbia susanae f.crestata

Euphorbia trigona

Euphorbia trigona f.crestata

Euphorbia trigona f.crestata

Gasteria cv.Green Ice

Gasteria marmorata

Haworthia fasciata

Haworthia attenuata f.variegata

Haworthia limifolia

Haworthia limifolia

Haworthia pumila

Haworthia truncata

Haworthia truncata

Haworthia viscosa

Pachypodium lameri