Cactus & animals
Valentino Vallicelli
"Cactus Art"
От редактора: Мы снова возвращаемся к материалам сайта Valentino Vallicelli "CACTUS ART" (Via Matellica 41, 48010 Castiglione di Ravenna (RA), Italy). Мы уже писали об этом итальянце в наших предыдущих выпусках. Он заметил в своей коллекции очень много интересного, чем мы хотим поделиться с читателями Культивара.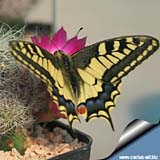 Photo 5.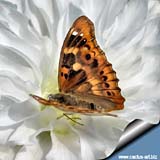 Photo 7.
Macro shots of cactus and animals in Cactus Art green house and from cactus friends from all over the world.
A special thank to : Vera Gheno (Italy) - Andrea Seidel (Germany) - Razvan Diaconescu (Romania) - Steve Swirsky (South-East Florida, USA) - Andrea B. (Italy) - Yannick Gregorn (Slovenia).
The page by Valentino Vallicelli Cactus & animals will be regularly updated with curious photography from our plants collection.
On photos:
1. А это от краснодарцев.
2. Mammillaria sancez-mejorade and the tree frog (bis)
3. And now on a Sulcorebutia rauschii HS 121/1
5. butterfly visit a Sulcorebutia gerosenilis flower
7. Butterfly & white Echinopsis flower
8. and now on a Mammillaria theresae flower
10. Green spider from Italy & Cereus forbesii forma spiralis
14. Photo by Andrea Seidel (Germany): Echinocereus reichenbachii var. baileyi and the bees
16. Insect (??? on Escobaria snedii var. leei
17. Red spider & Astrophytum myriostigma cv. Onzuka tricostatum.
19. Insect (???) on Turbinicarpus polaskii
23. the same locust walking on an Echinocereus sp.
26. Photo by Andrea B. (Italy): Bee on Epiphyllum
27. Photo by Andrea B. (Italy): Saltigrade on Crassula
КАКТУСЫ КАК СРЕДА ОБИТАНИЯ или "дом родной" К ней подобрать текст из литературы и фото из интернета. Концовка статьи: В любительских колекциях расположенных на подоконниках или балконах такое не увидишь. Как исключение изредка может залететь муха, пчела (фото) (фото) или бабочка (фото) со стрекозой (фото). А вот в оранжереи, по свидетельству их владельцев, обитатели природы заглядывают, естественно случайно, достаточно часто (фото). Ну а если кому ждать сутками, с фотоаппаратом наготове, таковых "посетителей" невмоготу, то их можно "пригласить" и насильно (фото). Было бы желание, да интерес.

Photo 8.

Photo 10.

Photo 14.

Photo 16.

Photo 17.

Photo 19.

Photo 23.

Photo 26.

Photo 27.