CRESTED FLOWER OF NOTOCACTUS SCOPA F. MONSTROSA
(first flower from a crested, grafted plant)
Pavel Melnikov, Saint-Petersburg
Translation by Anne Dourtseva, Samara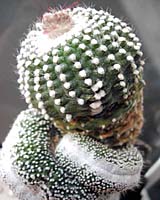 Photo 1.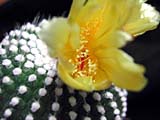 Photo 2.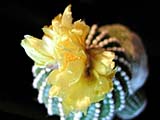 Photo 3.
Crested cacti are quite usual, however you don't often see a crested flower and there are few photos. Let's examine the development and structure of a crested flower of Notocactus scopa f. monstrosa. The flower bud appeared in the end of March of 2004 and had been developing as usual. Photo 1 (April 1) shows the plant with the flower bud. It was clear from the very beginning that the wooly bud was slightly deformed. On May 9 the flower began to open. As the bud and later the flower turned out to be crested it was growing not only in height and width, but also lengthwise along the crest. Because of that different parts of the flower were of different age and at different stages of growth. The flower crest grew mainly in one direction and soon came to resemble the figure "2" (Photo 2, May 18).
By May 17 more than half of the crested flower opened. Stamens, petals and flower tube were normally developed, but pistils were unusual. The first pistil of normal brown color had the form of a cone without blades, it was lying horizontally along the crest with its top turned to the older part of the crest, side by side with another underdeveloped pistil (Photo 3, May 16). Pistils in the middle of the crested flower grew together forming a crested plate with a jagged upper edge in place of stigmas (Photo 4, May 22). The plate with wavy sides measured 5 mm from bottom to top. In the youngest part of the flower which opened last of all there were brown petals in place of pistils (Photo 5, May 22). The flower stayed open from May 9 to 23. The oldest part of the flower lived longer than the youngest (from May 9 to 18), it opened 10 days earlier and began to fade only 4 days before the youngest one. I could not pollinate the flower, not having the necessary pollen.
P.S. All the photos show one and the same plant - Notocactus scopa f. monstrosa, grafted onto a Hylocereus and having crested offsets. The main stem with a crested flower has normal growth point. I happened to come across the photos in the Internet of this Notocactus scopa under the name of Notocactus scopa f. monstrosa. However the word "monstrosa" was used not in its common meaning "multi-headed", but rather in that sense peculiar to Japanese sites, denoting a plant considerably different from the others of the same kind. I was for a long time confused by such a usage of this term, but later decided that the term had already become settled. Perhaps, I need to make it clear. Notocactus scopa f. cristata differs from the plant I call Notocactus scopa f. monstrosa f. cristata, described in the article.