CRESTED CACTI IN CHILE
Juan Acosta (Chile)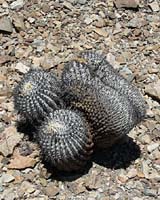 Photo 1.
From the Editor. These wonderful photos upon our request were sent to be reproduced here by Juan Acosta from Chile (web site www.eriosyce.info). Most of these pictures were taken in the course of the famous "Copiapoathon" in November of 2006, when Juan Acosta and Florencia Senoret joined a small international team with a specific interest in the Copiapoa cacti.
Juan wrote, "I think that Copiapoa is the genus that normally has crested species. Eriosyce is not too much common and Eulychnia and Echinopsis are even less. But when we are traveling we always search in new routes, secret places, with difficult access and you can find special plants."
We sincerely hope that you enjoy these remarkable pictures. Comments by Juan Acosta.
Photo 1. Copiapoa cinerea from Las Breas, east of Taltal.
Photo 2, 3. Copiapoa megarhiza ssp. parvula from east of Caldera, big populations found, but only one crested plant.
Photo 4. Copiapoa ahremephiana from Botija Valley.
Photo 5. Eriosyce chilensis from Pichidangui, growing on coastal rocks. Look for seedlings in the small rocks.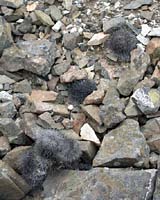 Photo 2.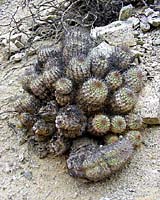 Photo 4.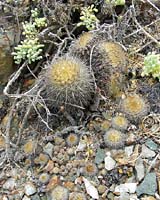 Photo 5.
Photo 6, 7. Copiapoa cinerea v. albispina from Quebrada San Ramon, Taltal.
Photo 8-10. Copiapoa haseltoniana- plants from north of Paposo, by the coast, beside the road... but hidden.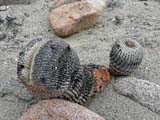 Photo 8.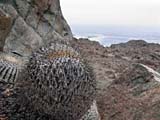 Photo 9.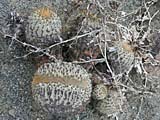 Photo 10.
Photo 11-15. Copiapoa columna-alba from north of Esmeralda, near the coast.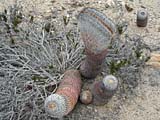 Photo 11.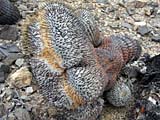 Photo 12.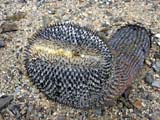 Photo 13.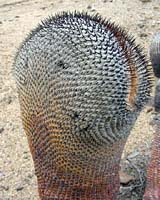 Photo 14.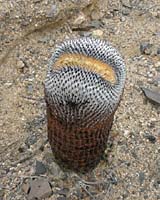 Photo 15.
Photo 16, 17. Copiapoa krainziana from Quebrada San Ramon, "deep inside" of the Quebrada (quebrada means... canyon).
Photo 18, 19. Echinopsis chiloensis from San Jose de Maipo, south of Santiago.
Photo 20. Habitat destruction by the mining industry: this photo was taken north of Taltal ...
© Photos Juan Acosta & Florencia Senoret, www.eriosyce.info.