ASTROPHYTUM CULTIVARS from collection of Dimopoulos Panagiotis and Apostolou Stavros (Greece)
Larisa Zaitseva (Chelyabinsk, Russia)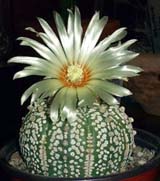 Photo 1. A. asterias cv. 'Super Kabuto'
Dear readers, in the first issue of "Cultivar" in 2007 we introduce to you two collectors from Greece. Dimopoulos Panagiotis and Apostolou Stavros are friends and owners of a fine and large collection of cacti & succulents and caudex plants. All this wealth of plants is prospering in a balcony in Athens, the capital of Greece. One has only to wonder how they manage to keep and care for such an immense quantity of plants, as it took me almost an hour to look through the photos of Astrophytums only. One of the owners of this wonderful collection Dimopoulos Panagiotis (perhaps known to some of you under the nick 'Panos') has kindly agreed to write a few words about himself and cultivation of his plants:
"My name is Dimopoulos Panagiotis and together with my friend Apostolou Stavros we have built up a collection of plants in Athens (Greece) where we live in apartment near the city center. As a child I was already interested in cacti and succulents and I started collecting them when I turned 14 years old. Many years later I have met Stavros with the same interest in C&S so we decided to combine efforts and started building our present collection. Our favourite plants come from the genera Astrophytum, Lophophora, Ariocarpus, Haworthia and Euphorbia and we are also very fond of caudex plants.
Our collection is kept in a balcony which seemed so large at first, but now after 6 years of growing it became really small! To use the balcony space more efficiently we put the plants on stands but all the same the balcony is overcrowded with pots. No space - this problem is known to most of collectors all over the world and up till now this is our biggest problem too. The sun in Athens is very hot and in summer we keep the most sensitive plants shaded. In winter we have to move all our plants into the house (we have one spare room that we transformed into a nursery!) Though this year the winter has been so mild that all our plants are still outside.
The Astrophytum cultivars are among our favourite cacti. We buy mature plants and seedlings from all over the word - in EU, USA, Japan and Thailand. We prefer to buy non-grafted plants and purchase grafted ones only when we can't find a certain plant on its own roots. Perhaps in the next growing season we'll try to graft some Japanese hybrids in order to observe the difference between own-rooted plants and grafted ones. We have started sowing seeds only 3 years ago and are eager to see our seedlings grow as fast as possible. Many seeds come from Japan but we also harvested some seeds from our own plants. In future we intend to cross the most unusual cultivars to see if we can get something really remarkable.
After some years of experimenting with the potting mix we found that the best soil mix for us consists of our local rich soil, small- and medium-sized sand, a bit of perlite with vermiculite and small pieces of charcoal and some akadama.
We are still amateurs and we need to learn a lot about the cultivation of our plants and we'd also like to collect many other species and new forms. This hobby is addicting and never ends..."
... There is more than a hundred Astrophytums in collection of Dimopoulos Panagiotis and Apostolou Stavros (a hundred and thirty, to be exact). Some of the plants are species but most of them seem to be cultivars of every sort and kind - flocked, "nude", variegated, monstrose, three-ribbed and so on. We hope you enjoy looking through the photos of these remarkable plants!
Photos 2-7 and 33 show variegated Astrophytums: asterias with and without flock, "nude" myriostigma ... All variegated plants grow on their own roots.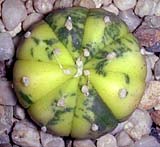 Photo 2.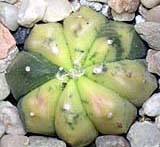 Photo 3.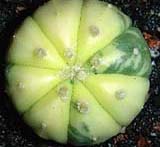 Photo 4.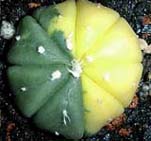 Photo 5.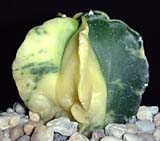 Photo 6.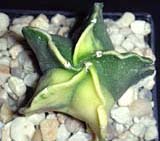 Photo 7.
Here are some interesting cultivars of Astrophytum myriostigma named 'Kitsukow', or 'Kitsu-kow' (Photos 8-13). When viewed from above these plants resemble a tortoise-shell hence the Japanese word 'Kitsu-kow' (at least this is an explanation I've read in some reference-book). I personally think that some of these forms rather resemble Gymnocalycium.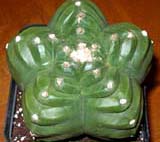 Photo 8.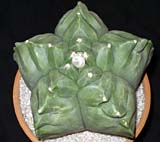 Photo 9.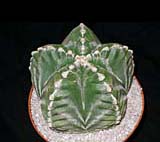 Photo 10.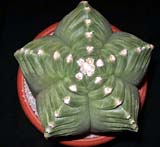 Photo 11.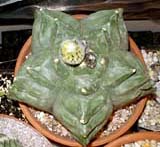 Photo 12.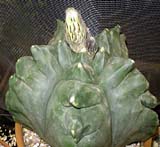 Photo 13.
Densely flocked Astrophytum asterias cv. 'Hanazono' (Photos 14-16):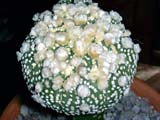 Photo 14.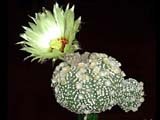 Photo 15.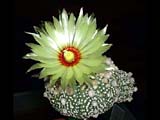 Photo 16.
Another popular cultivar of Astrophytum myriostigma 'Onzuka' (Photos 17-19 and 32, 35) with its peculiar pattern of very dense flocking: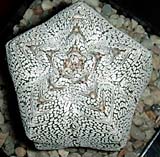 Photo 17.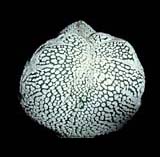 Photo 18.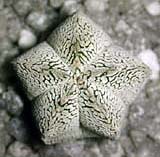 Photo 19.
Cultivars of Astrophytum asterias 'Super Kabuto' (Photos 20-25) have most diverse flocking patterns and come in many types defined by such epithets as 'Snow Ball', 'Zebra', 'White Dot', 'Snow Super' and so on: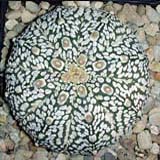 Photo 20.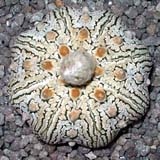 Photo 21.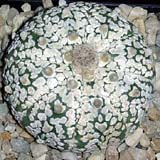 Photo 22.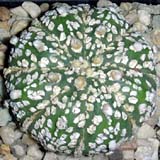 Photo 23.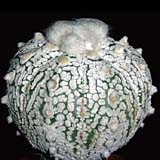 Photo 24.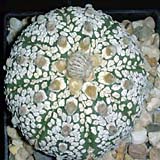 Photo 25.
There are also several three-ribbed plants in the collection, species as well as cultivars (Photos 26-28):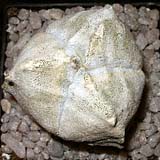 Photo 26. A. coahuilense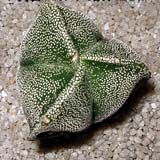 Photo 27. A. myriostigma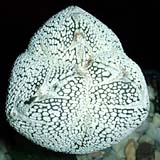 Photo 28. A. myriostigma cv. 'Onzuka'
Here are some Astrophytum cultivars with very unusual flocking pattern and enigmatical name 'OOIBO' (Photos 29-31 and 43):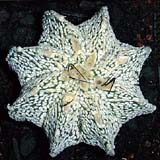 Photo 29.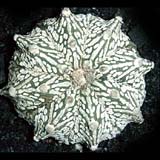 Photo 30.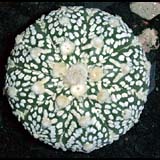 Photo 31.
We thank Dimopoulos Panagiotis and Apostolou Stavros for their ready cooperation and kindly permission to reproduce the photos of their plants on the pages of our e-magazine.
All photos were taken by Dimopoulos Panagiotis and Apostolou Stavros, for more photos of Astrophytum cultivars from their collection see www.public.fotki.com/PanosS.