PHOTO GALLERY: CRESTED SAGUARO
Peter Lapshin, Moscow
Photo 1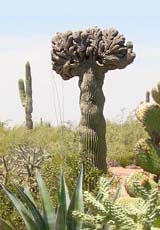 Photo 2
Carnegiea gigantea or saguaro is one of the largest cacti with a world-wide fame (are there many people who has never seen a western movie?!) It is a distinctive feature of landscape in Sonoran Desert, southern Arizona and adjoining northwestern Mexico where these plants sometimes form saguaro "forests". Occasionally one may come across a crested saguaro. Here is a selection of photos picturing these magnificent crested specimens …
All photos are reproduced with permissions from their authors.
Photo 1. This is a well known plant that lives at the Desert Botanical Garden in Phoenix. Photo by Kevin Barber, source: the site of Tucson Cactus and Succulent Society www.tucsoncactus.org.
Photo 2. This photo by David Drake shows obviously the same magnificent plant from the Desert Botanical Garden.
Photo 3. A crested Carnegiea gigantea, photo by Roger Devore DevorePhoto.com.
Photo 4. Another view of the crested saguaro from the Desert Botanical Garden (Arizona). Photo by Tony Avent, source: Plant Delights Nursery Inc.
Photo 5. This saguaro is a well known specimen that lives at Bach's Nursery in Tucson. Photo by Dan Bert, source: the site of Tucson Cactus and Succulent Society www.tucsoncactus.org.
Photo 6-11. All these photos were taken by Pamn Baptist when she and her husband John went on a mission to find odd, different looking cacti... Source: Pamn's album "Cacti Oddities" in Pamn.smugmug.com. Photo 6 shows an unusual saguaro from Honey Bee Canyon, the crested saguaro pictured on Photo 7 grows right off a main street in N. Tucson. Photo 8 shows a crested plant from the outskirts of Goldfield (a mining town near Apache Junction). Photo 9 - this double-crested and flowering saguaro lives on Moore Road. Photo 10 and 11 show a fine crested plant and a close-up of its upper part.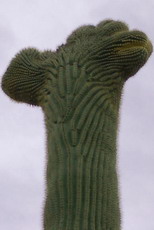 Photo 6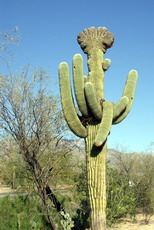 Photo 7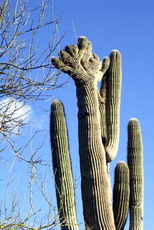 Photo 8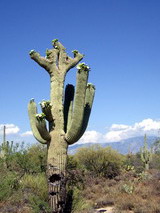 Photo 9
Photo 10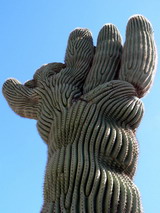 Photo 11
Photo 12, 13. A crested Saguaro from Sabino Canyon. Photo by Jane Rigby (see photo album Afternoon at Sabino Canyon).
Photo 14, 15. A crested Saguaro from Southern Arizona, photo by Jerry Brown (see his site Travels with Timmy).
Photo 16, 17. This crested saguaro grows in Tohono Chul Park, the photos were taken by Marv Wunderlich (see his photo report on this park at Tohono Chul Park).
Photo 18-21. These photos picturing one and the same crested saguaro were taken by Eale Robinson (site Arizona Wild Bird Photos), there is also a page dedicated to cacti . The holes in this fine specimen of saguaro are homes to some desert birds of Arizona.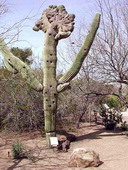 Photo 19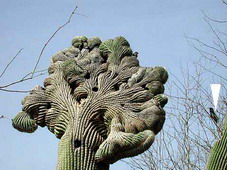 Photo 20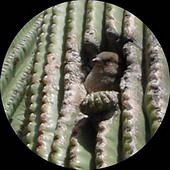 Photo 21
The team of "Cultivar" is grateful to all the authors who kindly gave their permissions to reproduce here the photos of these marvelous plants.
More links to the pictures of crested saguaro:
CactusWeb.US -Sonoran Desert of extreme southeastern California;
Crested saguaro on Ina Rd; Crested Saguaro Ajo RV Parks, Ajo Heights RV Park;
Top of a crested saguaro cactus; Crested Saguaro from Paradise Valley.