EXPERIMENTS ON SEED IRRADIATION CONTINUES
Andrey Smirnov (Chelyabinsk, kaktus.ru@list.ru)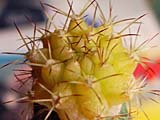 Photo 1.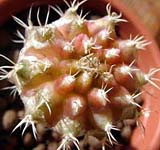 Photo 2.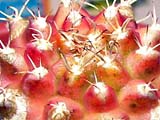 Photo 3.
During the last year my plants were continuing to change. Look what happened to them. What a wonderful metamorphosis.
The hybrid G. mihanovichii v. friedrichii x G. Eurypleurum (Photo 1-2) changed its color from yellow to red because of a plastid mutation but it's not quite red. Near the top traces of the "yellow past" are noticeable. As a seedling, the plant was pinkish in color, then it became yellow, and then changed again. Besides that, you can see chaotic green spots everywhere on the stem. They seem to be internal. One more photograph: Photo 3. Green spots are clearly visible.
In the fall 2006 my Frailea cataphracta (Photo 4) unexpectedly changed its color and shape. The two year old mutant is a third generation of the mutants created by x-ray irradiation. It started to show fasciation (or monstrosity) near the top of the meristem. This happened not only on a mature plant but also on its shoot. I thought the cause was lack of light in fall. In summer I don't protect my x-ray mutants from sunlight. The top of stem became elongated but later it grew into something big. I have several mature plants of Frailea cataphracta in my collection, but this change happened for the first time.
There is a hybrid Gymnocalycium michoga x G. mihanovichii v. pirarettaense on photos 5-8 - and again with plastid mutations. What has caused the appearance of this particular combination of colors? It's difficult to answer the question. The plant changed its color to dark green quite fast. When red color was gone areoles started to show brown color. The color also randomly appeared on the rest of the stem. Probably the color change is caused by sun ultraviolet rays. In winter there were not visible changes.
| | |
| --- | --- |
| Photo 7. | Photo 8. |
There are more interesting hybrids in my collection. They are not colored but still quite amusing. They differ from their parents by spine number, color and shape. The photos are in the left column. Parent plants are G. stenopleurum (Photo 9) and G. mihanovichii X G. mihanovichii v. friedrichii (Photo 10). Their descendants are on photos 11-14.

Photo 9.

Photo 10.

Photo 11.

Photo 12.

Photo 13.

Photo 14.