COLORED CRESTS
Everyone knows there are crested forms of cacti both in nature and in collections. But few people know that crests can be colored. We placed several here. I hope we will enlarge this list with the help of our readers.
BLACK BALL
By Yu. Zhurov, Vladivostok, Russia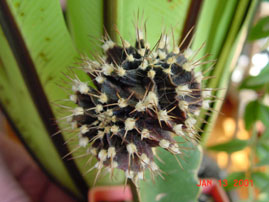 Photo 1.
I got this plant 3 years ago from V.M. Serovaiskiy, Moscow, as Gymnocalycium mihanovichii f. blackbotan, the so-called .black ball.. I still do not quite understand what is .black ball.. Is it a colored form with specific pigment or an ordinary form of rich dark color. I heard different opinions. The plant grows slowly. I got only one normal (round) offset from it and another like this (photo 1). It is hard to say yet if it is a crest or dichotomy. I would go for dichotomy though I am not absolutely sure. The .groove. between .the heads. seems to be getting wavy. You might see it in the photo. What if it is a crest? It is very attracting!
MANY-SIDED CHAMAECEREUS
By Yu. Zhurov, Vladovostok, Russia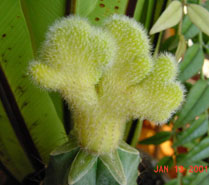 Photo 2.
Chamaecereus silvestrii f.aurea f. сristata (photo 2), appeared in Vladivostok approximately in 1994. According to the owner the plant was brought to her as a present from Singapore. I should mention some peculiarities of grafter. Grafting is easy. It looks like the grafter sticks to the stock. They accrete in 1-2 days. In about 7-10 days the grafter starts growing. Among good stocks there are Hylocereus, Selenicereus, Cereus and others. In my opinion stocks are not critical to the grafter. But I made no experiments to find out what is the best stock. Chamaecereus silvestrii f.aurea f. cristata, like ordinary Chamaecereus is subject to tick attacks. So one should check grafts and treat them with special stuff for preventive purposes.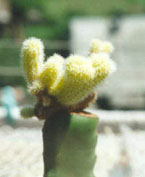 Photo 3.
Crest forming depends a lot of the conditions in which the graft exists. The grafter can start forming a crest or something like dented cup, or grow flowing and so on. On the other hand if the stocks are almost the same and the grafts are in the similar conditions (at the same window-sill) then the grafts develop in a similar way. The graft is very stable and amazingly more long-lived than Gymnocalycium colored forms. The plant brought in 1994 is still alive. In the climax of activity (usually in summer) in the area of new growth sort of yellow pistils sized 5-7 mm can appear. No other elements of flowers were found. The problem of yellow pistils is to be solved in the future.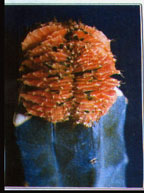 Photo 4.
Sometimes in certain conditions grafts form crested offsets. They look like normal Chamaecereus silvestrii f.aurea (photo 3). But later the upper part of the offset begins to extend and turns into a crest. I did not do special researches but found that this process starts when the feeding is not enough : poor soil, bad watering and so on. One can keep the stock in a small pot. When the plant starts .starving. the graft will form .fingers..
ONE OF THE FIRST
By Yu. Filippov, Moscow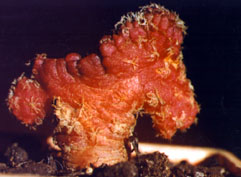 Photo 5.
Gymnocalycium michanovichii f.rubra f.cristata (photo 4) appeared in Y.A.Shinkarenko.s collection (Moscow) more than 20 years ago. It was brought from N.Karchevskiy, Baltic region. Several times it nearly died until it was grafted into Myrtillocactus. Now the plant has about 12 cm crest. It grows very slowly. It never bloomed.
HUMPBACK LITTLE HORSE
By N.Shemorakov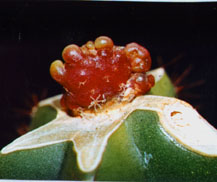 Photo 6.
A red crested seedling of Turbinicarpus lophophoroides has lived on own roots for three years in my collection (photo 5). Its shape reminded of a character of the popular Russian fairy tale . humpback little horse. It was 2 cm high in the .withers. and about the same size long.
In summer 2000 its root collar got rotten . it was contaminated. I had to take emergency measures . to engraft it. Out of four grafts only 2 survived: the .withers. and the .tail.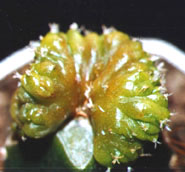 Photo 7.
Cutting the plant for grafting I mentioned that only upper (subepidermal) layers of cells were red. Then the color changed to dark green and light green in the middle of the crest. It was a kind of false colored form. Can you imagine this?
One of the two grafts left, the .withers. grafted into a short Cereus grew very fast and got green. By November 2000 only a brownish shade in the middle of the crest reminded of the red coloring (photo 6). The other graft grows well and did not change its coloring (photo 7).