PARA-HOBBY. "CACTUS LACES" Salon
ANOMALIES IN NATURE
Valery Kalishev
translation by Irine Kalmikova
Our magazine is called "CULTIVAR". Cultivar means a plant variant which is not known in nature or if a natural quantity of this plant is not big enough for its botanical recognition. So far we have been writing about succulents related cultivars only. In this article we have decided to place some interesting forms of other ornamental plants. Photos and text by Denis Gil and Daniil Simonenko (Sochi) and Sergey Kalmykov (Krasnodar).
| | |
| --- | --- |
| Photo 7. | Photo 9. |
| Photo 11. | Photo 12. |
| Photo 13. | Photo 14. |
| Photo 15. | Photo 16. |
Photo 1-2 - crested Chrysanthemum. A crested flower of Chrysanthemum Rebonet (white flowers) appeared in Daniil Simonenko`s collection. "Cultivar" once wrote about him before. He says that such flowers – even of different sorts of Chrysanthemums - appear quite regularly at his site.
Photo 3-4 - crested Gerbera flower (D.Gil, Adler).
Photo 5 - Tulip: 2 flowers on 1 pedicle (D.Gil, Adler).
Photo 6-9 - Celosia cristata. By the way, they happen to have different flowers – bordeaux, red, yellow (D.Gil, Adler).
Photo 10.Celosia cristata (S.Kalmykov, Krasnodar). This plant is also known as Cockscomb. In fact, you can clearly see that not only the blossom cluster is crested but so is the stalk.
Photo 11-12 - Aiva japonica (D.Gil, Adler). Japanese quince tree. From the park Yuzhniye Kultury (Adler). On one branch there are two different flowers – reddish and white (illumination and age of the flowers are the same). Another picture of quince flowers – one flower is white and one of the other flower`s petals is reddish.
Photo 13 - Grab (D.Gil, Adler), seems like a hypochlorophyllous form. An old Grab fell down and started to give offsprings. Among regular ones you can see a hypochlorophyllous trunk. It is not so big yet – only about 20 cm.
Photo 14 - Taraxacum with a crested blossom cluster (S.Kalmykov, Krasnodar).
| | |
| --- | --- |
| Photo 18. | Photo 19. Euphorbia milii |
Photo 15. Ailanthus f. variegata (P.Lapshin, Sochi). This young variegated plant was found in Yuzhniye Kultury state farm in 2004.
Photo 16 Ginkgo biloba f. variegata. A picture from the Internet.
Photo 18 Daisy with a crested flower (P.Lapshin, Moscow).
Photo 18 Non usially flower at Euphorbia milii (S.Kalmykov, Krasnodar).
LARGE SCARCITY
Andry Blinov, biologist (link)
When An Mosolov from the garden society "Summer garden" has brought the sweet pepper, brought up by her parents, we exclaimed. Never it was not possible to see a fetus of such huge size yet and such exotic form.
We are especially pleased a crested form of a fetus of sweet pepper. The specialists explain occurrence of such fetuses to that for hardly knotted fruit suddenly starts multiply to be divided and to be drawn out abreast point of growth. So will be derivated bizarre multilobular peppers. It is interesting, that if to take seeds from such fetus, the probability of repetition "fads of the nature" will make no more than one percent.
YELLOW SHARK
The fad of the nature - yellow shark, called Mango (photo), attracts general attention of the visitors of the Sydney aquarium (Australia).
It have caught in the river Hawkesbury to a north from Sydney in September, 2003. Surprised, that at first Mango have found by the albino, but then have explained its yellow colour by operating of the gene - mutant which has stipulated excess in an organism of a yellow pigment of a xanthine. This exotic pigment found for birds, snake and for some fishes, but not for sharks earlier.
In opinion of the biologists, yellow shark can bring up up to one and a half of meters.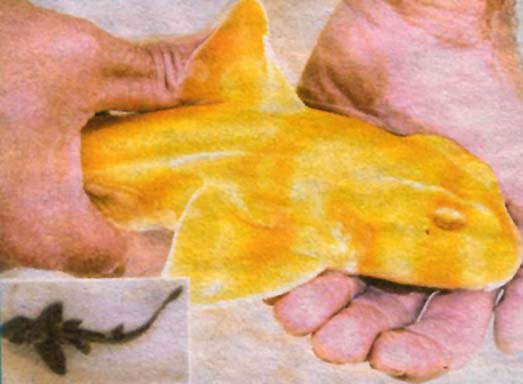 (Newspaper "Secrets XX century" № 21, XI - XII. 2004).