NEW PLANTS IN OUR COLLECTIONS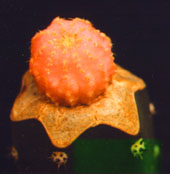 Photo 1.
In the 2nd issue of CULTIVAR we introduced Nikolay Fedukin, a cactus enthusiast from Moscow who tries not to miss a single emerging mutant among his sowings.
Today we are showing his collection for the first time. We hope that cactus amateurs from the other countries will want to share their experience with CULTIVAR in a similar manner. Anticipating your questions, we must say that all Nikolay's plants have been grown from seeds and never been propagated by vegetative reproduction.
Photo 1. Gymnocalycium ragonezii, grown from seeds in 1996. It has bloomed and produced seeds, after having been pollinated with an ordinary G. ragonezii. There were only eight seeds in the fruit. When sown, three of them produced color plants. The plant does not resemble a typical G. ragonezii, which is widely sold by Holland retailers. Mine is bright pink, and remains unchanged all the year round. The plant is dwarf. The main stem is less than 3 cm in diameter. The flower is almost half the size of what it normally should be, floral tube and petals are light pink tinted.
| | |
| --- | --- |
| | |
| Photo 2. | Photo 3. |
Photo 2. Gymnocalycium hybopleurum. Originally, the seedling was saturated red, now it became yellow with pink traces at the lower parts of tubercles.
Photo 3. Gymnocalycium cardenazianum, MG 460.1. Unfortunately the photo does not render all the colors. There is one green rib on the other side of the plant. The seedling had two heads, one of which bore a wide colored stripe. After grafting, the plant became almost completely colored. The spines are not reduced.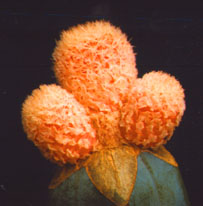 Photo 4.
Photo 4. Mammillaria wolshlegerii. Four out of ten seeds germinated with pink seedlings. The seed-lobes originally were green. Then, half-transparent mammillae with normal spines showed up at the seedlings' apices. As they grew, they turned rich pink and developed well, because they were sitting in the sun all the summer long. When I lost one of them, I decided to graft the rest. By now they have not changed their original color. I think this is a successful and interesting form.
It often happens that colored seedlings restore their typical color after grafting. This happened to G. riojense GN 93-651/1796 and to Echinocactus horizonthalonius - it was red, but after grafting became bluish, as it normally should be.
Photo 5. Astrophytum asterias cv. Superkabuto, variegata. Seeds were obtained from H. Ohudu (Japan).
Photo 6. Mammillaria bocasana. The plant apex is light green.
| | |
| --- | --- |
| | |
| Photo 5. | Photo 6. |
All photos are the courtesy of Nikolay Fedukin.