Exhibition cacti in Chrudim, Czech Republic (September 2005)
Source Article: www.hobbyklub.com
About translation of this article:
We was used
Goggle Language Tools.
We understand, that a machine translation can't compare to a man-made translation, but we suppose that any translation is better than nothing for non Russian readers. Thank you for your understanding.


Finally we got our hands up to the message that, as is always the last Saturday of September in the glorious city of Hrudime, where dwells one of the masters of Czech fans cacti Paul Pavlichek with the family, also at all those infected are not harmful to the health of the virus, there was a fair and cacti other succulents, marked the closing of the next summer season.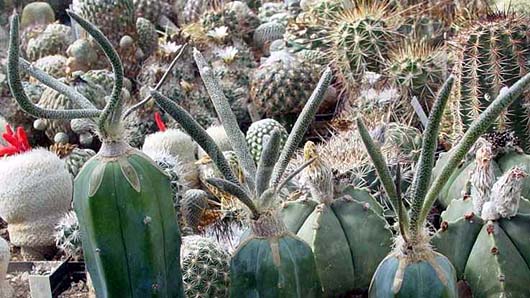 New! Astrophytum asterias Caput Meduza from the collection of Paul Pavlicheka, photo Olga Naumova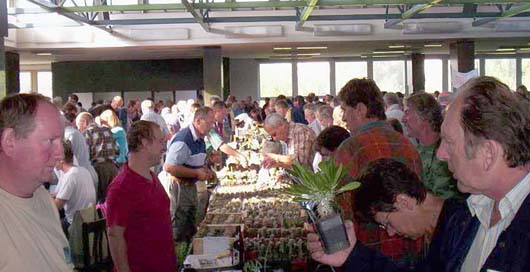 Photo by Sergei Zhelyabovsky (Prague)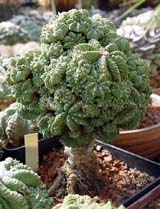 Aztekium ritteri Pavlichek (photo by O. Naumova)
Photo from last year's fair has been published on our website and caused a noticeable response: Many Russian and Ukrainian fans wanted in the Czech Republic to visit this event in 2005. They say, according to statistics among fans of cacti far more men than women. Probably so. But with regard to perseverance in reaching this goal, the Russian men, apparently, should learn from women: the fair of 2005 arrived, only two guests from Russia - Elena Shugurova from Angarsk and Olga Naumova from Perm.
It was in these days in Prague were two exhibitions - duty cacti (not as strong as the spring, rather, the sale of surplus, and an exhibition of insectivorous plants (in Czech for the Russian ear the names of these plants sound funny - a fly paws and meat knife and fork. "So we went there. A beautiful Saturday morning the three went in Chrudim. On the way back to Prague drove into the city of Kutna Hora, known for its glorious past (and what city in the Czech Republic can not boast this?)
Thus, the closure of cacti seasons of 2005 and a collection of Paul Pavlichek the eyes of Russian fans (or rather, the two lovers, and fan). Photos of Olga Naumova (Perm), Elena Shugurova (Angarsk) and Sergei Zhelyabovsky (Prague).
| | | |
| --- | --- | --- |
| Ariocarpus (Photo by Olga Naumova) | Ariocarpus retusus (Photo by Olga Naumova) | Ariocarpus trigonus (Photo by Olga Naumova) |
| Astrophytum asterias Caput Medusa (Photo by Olga Naumova) | Echinopsis cristata (Photo by Olga Naumova) | Gymnocactus veireckii (Photo by Olga Naumova) |
| (Photo by Olga Naumova) | (Photo by Olga Naumova) | Pelecyphora asseliformis (Photo by Olga Naumova) |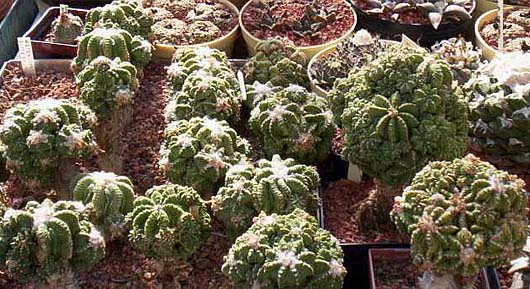 Photo by Sergei Zhelyabovsky (Prague)