ASTROPHYTUM
From the Editor: having decided to make a review on Astrophytums I started up a Russian language search engine. To my query "Astrophytum" the engine had found 99 sites and 698 documents. After a moment's hesitation I decided to look for information close to the main subject of our magazine. In this case the data were few: a number of articles translated from Czech in the site of Sergei (http://succulent1.narod.ru), three articles in German in the site of Heinz Hoock from Germany (http://www.astrobase.de/index.html)and an article by Bohumil Shьtz on hybridization of Astrophytums, translated into Russian by Vladimir Boxer. These articles are now recommended to your attention.
We thank Sergei Gursky from Moldova who helped to prepare photos for this review. Preference was given to the photos with the names of the plants. To our disappointment we could find only a small number of photos of cristate and monstrose forms. You won't see photos of cultivars of "Kabuto" type in the review, they were already published in "Cultivar" No 5(6). There are very many snapshots of colored cultivars in the sites of Japan cacti lovers, but they are all in Japan and the names of cultivars lack Latin transcription.
We didn't ask permission to use certain photos to illustrate our review and therefore bring our apologizes to the owners of the sites and authors of the photos whose claims will be immediately satisfied and the photos will be removed from the review.
In our review we used photos from the following sites. We recommend everybody wishing to make a closer acquaintance with the genus Astrophytum to visit these sites. You won't be disappointed!
Crossing of Astrophytums
Bohumil Schutz: Astrophytum Genus, Friciana (56): 24
Astrophytums belong to those cacti where crossing is feasible. The forms of Astrophytums vary to such a large extent that it is possible to obtain interesting forms distinctly differing from the natural ones. Astrophytums had already been hybridized in the last century (19th century – Editor). To the best of our knowledge the first man to cross A. myriostigma and A. ornatum was the abbot Beguine from France. His hybrids had been bought by the gardening establishments of Haage and Schmidt in Erfurt and in the beginning of our century (the 20th century – Editor) the European market had been flooded with them. As a result the genuine A. ornatum had practically disappeared from collections.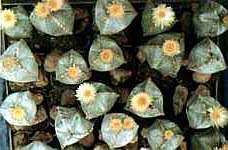 Photo 1
Then A. Fric having re-discovered A. asterias and brought A. senile to Europe indulged in crossing Astrophytums. As far as we know he was the first man to use these very species for crossing. Thus the so called Prague hybrids came into existence. A special position among Astrophytum hybridizers is held by Otakar Sadovsky who had systematically been crossing all the genus species with the help from a prominent cacti-grower Jan Suba. Nowadays Robert Graser has scored big successes. His greatest achievements are the three-ribbed myriostigmas both normally flaked and absolutely nude ones.

Photo 2. Heinz Hoock
In addition we may mention the "Kaktusy" (2000/2) magazine, where a Czech amateur Jindrich Kobr tells about anomalous Astrophytums from his collection. In course of more than 30 years he managed to grow several generations of three-ribbed Astrophytum myriostigma (photo 1). Many of them have found their homes in collections of Czech and German cacti-lovers. A special position in crossing of Astrophytums belongs to the Japan cacti-growers.
The next three articles and the photos illustrating them are reproduced with the kind permission of their author Heinz Hoock (photo 2) (

http://www.astrobase.de/index.html).
Astrophytum capricorne forma cristata
Heinz Hoock, 1986
(Published in Kakt. and. Sukk. Band: 37 Heft (12) Seite 260. Verbдnderte Capricornen)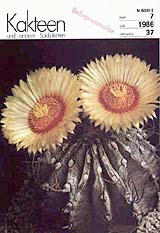 Photo 3
The cover photo placed in "Kakteen und andere Sukkulenten" in July of 1986 showing an Astrophytum capricorne (Dietrich) Britton & Rose had aroused a great readers' interest (photo 3). Complying to the numerous requests of our readers we provide an additional information. The plant comes from the population of Astrophytum capricorne, located slightly to the north of Saltillo (Coahuila) and has been in culture for ten years already. The number of its ribs has increased up to 31. Slightly oval horizontal projection of its body measures 12 or 14 cm in diameter. The growth point of the plant resembles a line about 2 cm long (personal information received from Schramm). This astonishing find had also surprised its discoverer in July of 1976 by a crested flower (personal information from Haas). In this connection Glдtzle reports of another A. capricorne f. cristata from the surroundings of Cuatro Cienegas. The plant in question was Astrophytum capricorne var. niveum (Kayser) Okumura; it had formed a "comb" after the injury of its apex.
It's a pity but in the literature there are only occasional references to cristate Astrophytums from Coahuila, and even those refer to mainly cultivated plants (Kayser 1933; Haage & Sadovsky 1957; Sadovsky & Schьtz 1979). It is said that Friи had allegedly managed to find such an Astrophytum coahuilense (Moeller) Kayser but it hadn't been ever documented (Sadovsky, 1979). It was Klaus who first documented such a plant in 1976. As is obvious from the text to the title page there were no known nature cristates of A. capricorne up to date. Thanks to this new find a gap has now been closed which had no satisfactory reason to exist.
Literature:
Haage, W.; Sadovsky, O. (1957): Kakteen-Sterne – 87, Verlag Neumann Radebeul.
Kayser, K. (1933): Echinocactus. (Astroph.) capricorne niveum var. n., Kakteenkunde (1) – 31.
Klaus, W (1976): Wuchsformen von Astrophytum coahuilense (Moeller) Kayser, Kakt. and. Sukk. 27 (7) .1 60 – 1 62.
Sadovsky, O. (1979): Kakteen mit zerstцrter Symmetrie, Kakt. and. Sukk 30(5): 121.
Sadovsky, O.; Schьtz, B. (1979): Die Gattung Astrophytum. 23, 153 Flora-Verlag, Titisee-Neustadt.
Translated from German by Zaitseva L.
A real crested flower!
Heinz Hoock, 1987
(Published in:
- Hoock, H. 1987. Kakt. and. Sukk. Band: 38 Heft (3) Seite 75 Eine echte Cristata-Blьte!
- Hoock, H. 1999. CaVeKa (Belgien) Band: 12 Heft (11) Seite 164 Tijdschrift voor Liefhebbers van Vetplanten Kamerplant Een echte astrophytum cristaatbloem)
Over 50 years ago a short note appeared under this title in the "Kakteenkunde". The author, editor Dr. W. v. Roeder described the rare crested flower of a "nude" Astrophytum myriostigma Lemaire from the collection of Grдser, Nuremberg. Besides other things he wrote: "Although I can assure you that I have known all kinds of cacti and seen them flowering, still I must confess that this is the first crested flower I ever saw in flesh. And the most wonderful of all things is that "the bishop's cap" on which this flower appeared is a normal plant, which had two such precious flowers since..." (Roeder, 1934).
Indeed, crested flowers in the Astrophytum genus are extremely rare. Even Sadovsky & Schьtz had to use the old, retouched Grдser photograph for their book on Astrophytum (Sadovsky & Schьtz, 1979). Such a phenomenon has happened in my collection in May of 1986. An Astrophytum myriostigma about 15 years old, also "nude" and up till that moment differing in nothing from other plants brought a crested flower without none whatever influence. The open flower was 35 cm in size and had a ribbon-like pistil with 140 underdeveloped stigma lobes. Accordingly there were from 6 to 10 times as much stamens and ovules (photo 4).
In cacti a main stem turning into the crest at its apex brings as a rule normal flowers. However there sometimes appear normally developing plants bringing cristate flowers, as in the case described. Fasciating plants can also bring cristate flowers, though extremely rarely. Such a case in the Astrophytum genus has been reported not long ago. Nevertheless the statement of Roeder is actual up to date that much has been written about crested forms of cacti but the cause for their appearance is still a mystery.
Literature:
Fittkau, H.W. (1976): Astrophytum myriostigma Lemaire var. strongylogonum Backeberg fa. cristata, Kakt. and. Sukk. 27 (2): 35
Fittkau, H.W. (1979): Astrophytum ornatum (De Candolle) Weber, Kakt. and. Sukk. 30(4):97-98
Grдser, R. (1961): Kuriosa bei Astrophytenblьten, Kakt. and. Sukk. 12 (3): 36-37
Hoock, H. (1986): Verbдnderte Capricornen, Kakt. and. Sukk. 37(12): 260
Klaus, W. (1978): Dreirippige Myriostigmen, Kakt. and. Sukk, 29(4): 90-94
Roeder, W. (1934): Eine echte Cristata-Blьte! Kakteenkunde (8): 145
Sadovsky, O. (1979): Kakteen mit zerstцrter Symmetrie, Kakt. and. Sukk.30(5): 120-121
Sadovsky, O.; Schьtz, B. (1979): Die Gattung Astrophytum, Flora-Verlag, Titisee-Neustadt
Strigl, F. (1986): Einige interessante Abnormitдten bei Astrophyten, Kakt. and. Sukk. 37(6): 109-111
Translated from German by Zaitseva L.
A Beautiful Cristate of Astrophytum ornatum
Heinz Hoock, 1989
(Published in Brit. Cact. Succ. Journ. (GB) Band: 7 Heft (2) Seite 49-50 A Beautiful Cristate of Astrophytum ornatum)
The Venados Valley in the Mexican Federal State of Hidalgo is well-known and famed for its unique succulent flora which for over 150 years has attracted visits from collectors and botanists. It is also known as the Valley of the Old Men, because of the Cephalocereus senilis (Haw.) Pfeiffer, or as the Barranca de Metztitlan. The little village of Metztitlan lies in the centre of a landscape that can truly be called a natural rock-garden.
My friend Ulrich Bernhard and I spent several days in the wild and romantic Barranca studying Astrophytum ornatum. On the slopes of the river valley these plants are to be found in all sizes, from seedlings up to great columns nearly two metres high, some scattered or in loose groupings, some in dense groups as shown in the picture of the vegetation. Naturally the "Old Men" native to the valley are conspicuous because of their height, but so are Echinocactus ingens Zuccarini, great clumps of Mammillaria geminispina Haworth, Thelocactus horripilus (Lemaire) Kladiwa, Marginatocereus marginatus (D.C.) Backeberg, Stenocereus dumortieri (Scheidweiler) Buxbaum, Ferocactus glaucescens (D.C.) Britton & Rose and Myrtillocactus geometrizans (Martius) Console as well as the ground-covering Agaves and Hechtias. My inadvertent bodily contact with the comparatively inconspicuous Cnidosculos urens (Linne) Arthur, the "mala mujer" (the wicked woman), taught me that compared with this the touch with our own native stinging nettles (Urtica) is no more than a joke. Even days after this experience the affected area of skin were still painfully swollen.
Not far from the village of Metztitlan, on a side valley of Venados intensively grazed by goats, grows the beautiful cristate of Astrophytum ornatum shown in the photographs (photo 5, 6). There are indeed occasional similar growth-forms with multiple heads or dichotomous crowns present in the habitat, but this plant far outshines all others. Nor has it caused by damage: over the last few decades the ribs have multiplied almost with the regularity of a geometric progression (see sketch). In the fasciated crown region the wavy rib inserts predominate, though here they occasionally occur spontaneously. At an overall height of about 80 cm and a diameter of 22 cm this A. ornatum looks more like the massive growth-form of Astrophytum ornatum v. mirbelii Lemaire along the Rio Tula and the Rio Moctezuma. Surprisingly the cristate part, 24 cm long and 22 cm wide, is only slightly oval though it already displays 46 ribs. The fact that cristates can flower is proved by the numerous flower-remains in the crown and more than fifty fresh flower buds in this region. A sowing of seed from this plant has, up to now, three years later, produced progeny which do not differ from the normal form of. A. ornatum from Metztitlan. General experience is that that the generative propagation of cristates is not possible; the cause of fasciation itself is still a mystery.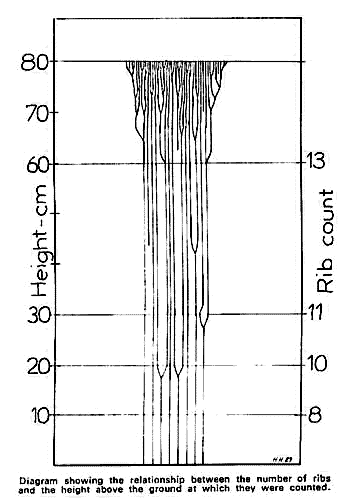 Apart from Astrophytum asterias (Zucc.) Lem., wild-growing cristate forms of all the taxa in the genus have been found, though they are very rare. It seems however that they are found more commonly in the evolutionarily older species. (Klaus, W. 1976). H. Johnson mentions a find in 1961 in the Barranca de Metztitlan. In absence of photographs unfortunately one cannot tell whether this was the same plant. This beautiful Astrophytum ornatum must have already been living in the habitat when De Candolle in 1928 got a specimen exactly from this area for the original description. From its size it has evidently survived the main perils of existence, which for seedlings come from grazing goats and in later life from the collecting activities of European cactophiles and dealers. So it is to be hoped that it will be able to go on growing undisturbed for many more years.
Literature:
Bernhard, U. (1987): Astrophytum ornatum (De Candolle) Weber in der Barranca von Metztitlan, Kakt. and. Sukk. 38 (10): 235
Fittkau, H. W. (1979): Astrophytum ornatum (De Candolle) Weber, Kakt. and. Sukk. 30 (4): 32
Johnson, H. (1961): Our Mexican Diary - Part II, Cact. Succ. Journ. (US) 33 (3): 85
Klaus, W. (1976): Wuchsformen von Astrophytum coahuilense (Moeller) Kayser, Kakt. and. Sukk. 27 (7): 161
Sadovsky, O.; Schьtz, B. (1979): Die Gattung Astrophytum, Flora-Verlag, Titisee-Neustadt: 21
Schmoll, F. (1934): List of Cacti Plants, (Firmenkatalog): 1
Translated from German by E.W.Putnam