EUPHORBIA ABDELKURI "DAMASK'
Dave Angus, England, dav44@btinternet.com
Fig. 1. Euphorbia abdelkuri "damask" growing in high light situation
This beautiful cultivar appeared during 1999 in a friend's collection on an otherwise typical grey stockplant of E. abdelkuri, all subsequent offsets on this plant have been normal.
In September '99 I was fortunate to acquire this red plant, about 25 mm tall and grafted on E. canariensis. During the next growing season I beheaded my plant and in no great haste began its propagation, not until 2002 did I realise the immense interest this striking unusual Euphorbia was creating and began intensive propagation under growlights last winter.
E. canariensis is the grafting stock I have used almost exclusively and is very successful, new grafts often showing growth within 3 weeks. Grafts on E. royleana do not grow so well though this may be because royleana never flourishes for me. I have not tried to cultivate this plant other than grafted but as it contains chlorophyll and would seem to differ from the norm only in colour and possibly a greater tendency to branch, I can see no reason why it should not be grown on its own roots.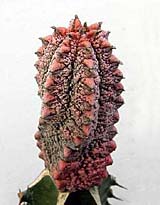 Fig. 2. Plant grown in low light showing greyish body colour.
In 2001 one of my red stock plants produced an offset with 2 grey ribs. Propagations from this plant continue to produce a percentage of bicoloured plants, mainly when offsetting from a bicoloured rib. Grey colouring is usually confined to whole or half ribs to varying degrees, one plant has only one red rib. Random patches of grey on a plant rarely occur and then only on very young offsets. Offsets from entirely red ribs are almost always totally red while grey ribs do not offset. Change in a bicoloured plant is always for the red to take over partially or totally from the grey, never the opposite (fig. 3).
Red plants forced to grow in a low light situation e.g. at the very edge of the growlight's effectiveness often lose the red colour to some extent, becoming largely but not entirely grey in appearance, when reintroduced to normal light, either by moving to a better position under the lights or into the greenhouse, new growth immediately reverts to red though the greyer parts do not change (fig. 2)
Description:
Differs from E. abdelkuri in its reddish body colour, varying in intensity with light levels under growlights but in my experience very stable under light levels encountered in the greenhouse.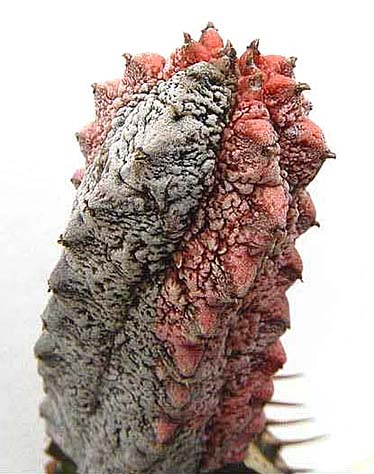 Fig. 3. Bicoloured plant
---