WHY MIHANOVICH?
Translation Yuri A. Yudin, NH, USA
Bogumil Mazel, "Kaktusy", 1994/1
Gymnocalycium mihanovichii is one of the most popular cacti in amateur collections. But only few people know how oddly its name secured itself in the cactus taxonomy.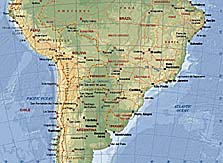 The map of South America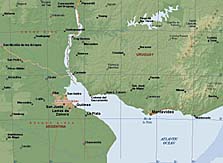 The map of Rio de la Plata
This happened in 1905. At the very end of his second trip across South America, Albert Friи 1 was stranded by a severe flooding in a sparsely populated region of Mato Grosso, which is located inside the continent, in the basin of the Rio San Lorenzo. Water flows rushing down from the mountains flooded wide plains and forests. To survive, Friи had to spend two months in a small settlement of Bahia Negra. He lost almost all of the previously collected plants. Only few specimens survived, including cacti which he found in Puerto Casado. In his memoirs Friи vividly describes how he had to wade barefoot, up to the neck in the muddy waters. In the place where he did not expect to find anything worthy he suddenly stepped upon a cactus. We can imagine his feelings at that moment! Just these few cacti had survived.
Upon Friи'es return to Europe, his friend Prof. Gьrke named this cactus Gymnocalycium mihanovichii. The name was suggested by Friи himself. At that time the origin of the name did not arouse any interest, having become habitual in the scientific literature. So, who is Mr. Mihanovich?
Recently in a second-hand bookstore I found a book about a trip to America, published in 1913. The author, an amateur traveler Joseph Korjenski was a teacher by trade. In the end of the 19th century he traveled around the world and described his impressions in the book The cultural sketches. Traveling down the La Plata River he noticed big posters with a name that seemed to have a Slavic origin. It was explained to him that Mr. Mihanovich had numerous property in this area – banks, fleets, ports and warehouses. Mihanovich was originally from Yugoslavia, which at that time was a part of the Austro-Hungary, as well as Czechia.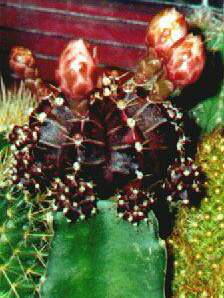 Gymnocalycium nishiki
Nicola Mihanovich was born in 1846 in Dubrovnik. He started his career as a rescue sailor on a boat belonging to his uncle. With the first good opportunity he went overseas and found himself in Montevideo. There was a war at that time, and he almost started to think about returning back home. But everything worked out and Mihanovich found a job as a port worker. He was carrying on his back passengers who were landing off the ships in small boats, to the shore. With time he managed to get rich, hence he bought his first steam ship sailing down the La Plata. The business grew up and the name of Mihanovich became the most respected along the entire river, being then the only way of transportation. Gradually, he became an owner of three hundred steam ships, thus surpassing the biggest at that time Hamburg-American shipping company.
In his notes, Korjenski mentions that Mihanovich had never refused aiding to any Slav. In the evidence of this, Mihanovich nearly free of charge shipped the collected plants to Prague when Friи stranded by the flood asked for help in sending his freight to Europe. As an appreciation the cactus discovered by Friи under such unforgettable circumstances was named after this man. Friи believed that the flood could have destroyed all the plants in the habitat and he will never be able to find that area again, and therefore the survived cacti were unique. It's been almost a century since that time. Both Albert V. Friи and Nicola Mihanovich would have been very surprised if they knew how successful cactus growers were in propagating these plants. Nowadays they can be found in almost any collection. Particularly prominent were the Japanese who made G. mihanovichii renowned worldwide due to its colored mutants.
This article and photos 1-5 are reproduced from Sergey Zhelyabovsky 's website http://succulent1.narod.ru/michanovich.html, with his kind permission. The accompanying maps show geographical locations mentioned in the article.