THE REGIONAL PLANT RESOURCE CENTRE IN BHUBANESWAR (ORISSA, INDIA)
From the Editor: Today when many natural habitats are being destroyed it is very important to conserve natural plant resources world over. Besides habitat preservation, it is essential to conserve and if possible, multiply individual plant species in man-made habitats like botanic gardens, field genebanks, conservatories, orchidaria, arboreta, and other collection of living plants and also in Seed Banks.

In this issue we present to you an autonomous organisation from India—the Regional Plant Resource Centre in Bhubaneswar (Orissa). During the last 13 years of its existence, the Regional Plant Resource Centre has established itself as a leading research institute of the country and a major centre for conservation of biological diversity of plants. Some of the researches done in the Centre are devoted to the plants from the Cactaceae family.
29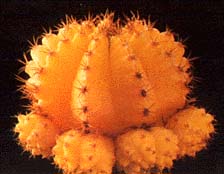 Gymnocalycium Mihanovichii var. friedrichii "Usha Narayanan"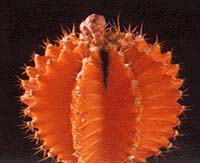 Gymnocalycium Mihanovichii Dr. "Paroda"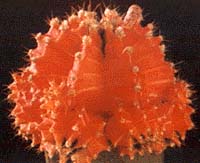 Gymnocalycium Mihanovichii "Adwait"
The major activities of the Regional Plant Resource Centre in Bhubaneswar may be described as follows:
Taxonomy and conservation of plants;
Tissue culture and biotechnology;
Biomass production and improvements;
Reclamation and re-vegetation of mined land in Orissa;
Study of wetland biodiversity;
Cytogenetic studies.
Plant introduction has been the major activity of the Centre since its inception. Till date, about 3250 species of native and exotic plants have been introduced to the living collection division through field collection and procurement of seeds and planting materials from botanic gardens all over the world. The Centre has an arboretum with 1430 species of trees which includes 110 species of timber trees, 45 fire wood species and several species producing gums, resins, essential oils and other economic plant products. Included in these are some interesting Indo-Burmese Dipterocarps, the longest living African Baobab tree (Adansonia digitata), a number of African, Brazilian, Australian, Indian and Madagascrian taxa.
Extending over 7 acres of land at present, the palmetum has a collection of 112 species of tropical and sub- tropical palms. Some species are rare ones having botanical interest. The bambusetum of the Centre has a rich collection of 61 species of bamboos, one of the best collection in the country. Besides collection of living plants, studies on propagation of selected promising species through conventional method and tissue culture are also being carried out.There are a large number of species of medicinal and aromatic plants and endangered species.
With a collection of 1050 species/ hybrids/ varieties of cacti, the Centre has the finest and richest collection of the group in the country. Besides, many newly - derived hybrids cristates, fasciated and other morphoforms have been developed here .Apart from large scale multiplication , other areas of research in cacti include different aspects of propagation, cytogenetic studies, hybridisation, application of physical and chemical mutagens to induce variability, insight studies on biochemical basis of monstrosity and fasciation. Some 200 new intergeneric and interspecific hybrid and cultivars have been evolved at the Centre.
The Centre has a rich collection of foliage plants, palms, bulbous, perennials, shrubs and annual ornamental species. Besides the above sectors, work on development of vinetum, frutisetum, aquatic and marsh garden, students' system garden, fernery, conservatory, garden for blind etc. have also been initiated. The Centre has 100 acres of aesthetic landscape garden with extensive lawn of Zoysia japonica grass, trees, shrubberies, ornamental flower beds etc.
Cytogenetic studies carried out in the centre include determination of chromosome number, estimation of nuclear DNA content and karyotype analysis in different plant groups. The Centre has done significant research work on cytogenetic studies in several species of Acanthus, Avicennia, Rhizophora, Bruguiera and Heritiera; ginger, Trigonella, Coriander, banana, cycads, Acacia and other economically important plants. Cytological studies on some genera of Cactaceae like Mammillaria, Melocactus, Ferocactus , succulent genera Stapelia and Pachypodium have also been completed.
Detailed information on the activities and achievements of the Regional Plant Resource Centre in Bhubaneswar may be found in our web-site at http://www.rprcorissa.org
CONTACT US: Regional Plant Resource Centre
Bhubaneswar 751 015, Orissa, India
Phone : 91-674-2553845/ 2558332
Fax : 91-674-2550274
Email: info@rprcorissa.org
All photos for this article are reproduced from the Regional Plant Resource Centre's web-site.