CONNECTICUT CACTUS AND SUCCULENT SHOW AND SALE
Yuri A. Yudin (photos by author)
The 20th Annual Show was hosted by Connecticut Cactus and Succulent Society on April 5-6, 2004 at Naugatuck Valley Community College in Waterbury, CT.
Hundreds of plants were presented at the show floor with cacti occupying approximately a third of the exposition and the rest of the hall was taken by other succulents. The show coordinators invited a judging committee from Massachusetts CSS to ensure unbiased evaluation of the plants. The judging scale was mainly based on the plant's condition (75 points), staging was also important (20 points) and nomenclature considered the least important factor (5 points).
Many merchants from the East Coast offered thousands of plants and lots of sundries for sale. John Spain, a recognized specialist in winter hardy cacti, had a choice of cacti that can be grown outside in New England's climate. A very special selection of cactus and succulent books was available from David Schultz.
The show program featured a number of short lectures and demonstrations. I would like to name here just a few topics:
Making a succulent wreath
Hydroculture of cacti and succulents
Oddities of the succulent world
Hardy cacti for the CT garden
I enjoyed watching many beautiful plants, some of them in full flower. It was a real pleasure to meet new people and exchange growing tips with other plant lovers. And, of course, shopping for plants and books was a real fun! If you live in the North-Eastern part of the U.S., I recommend you making plans to attend next year – you won't be disappointed!
We offer you to look at photos from this exhibition. Total quantity of photos is 26. They are situated on the next 4 pages.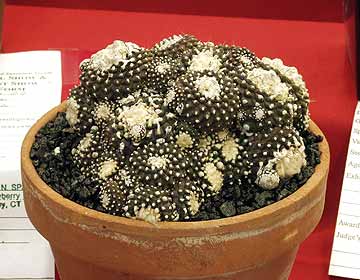 Photo 1. Copiapoa tennissima f. monstrosa. The best plant in Cactus division.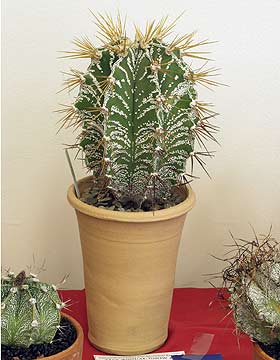 Photo 2. This showy Astrophytum ornatum won the first ribbon in Astrophytum category.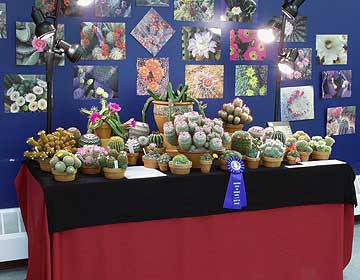 Photo 3. This special educational exhibit was awarded with the Best in Show ribbon. Almost all the plants on the table are either flowering or bearing buds!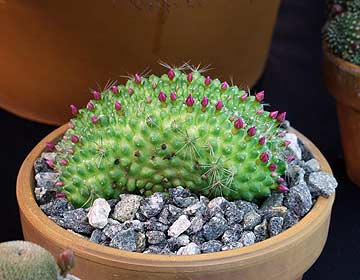 Photo 4. A crested Rebutia.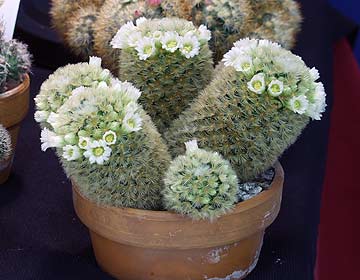 Photo 5. Mammillaria carmenae.
For more pictures click here.