European diary. Traveling through collections: Camil Prochazka (Prague), 2004
Valery Zlotin (Moscow, Russia)
Translated from Russian by Larisa Zaitseva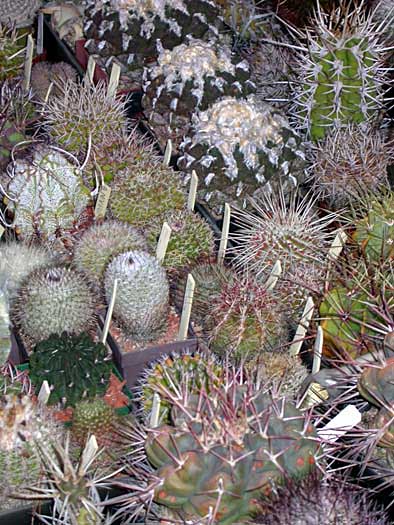 A cacti enthusiast from Czech Republic Camil Prochazka is 36 years old, he works in the computer centre of the Prague energy system. His interest in cacti began when he was only 6 years old, and being comparatively young he still owns plants cultivated for more than 25 years. He lives on the outskirts of Prague in a two storey house for 3 apartments (or so it seemed to me). Accordingly the backyard is also divided into 3 parts. In Prochazka's part there are about 7 or 8 frame greenhouses with total area of 30 square meters. The greenhouses are electrically heated but because of the prices for electricity the heaters are turned on only when it frosts and the temperature drops below freezing point. This winter the outdoor temperatures sometimes dropped to -25 deg. C, holding at about -5 deg. C in the greenhouses. That's why Prochazka cultivates mainly the North American cacti which are more frost-hardy, though there are gymnocalyciums and Chilean cacti in his collection as well. There are also other succulents. All the plants are lit by the sun all year round and are quite different from those we grow in Moscow – they are markedly wider and not so tall. The most apparent difference is in their spination – the spines are long, thick and very dense. All the plants flower abundantly including ferocacti.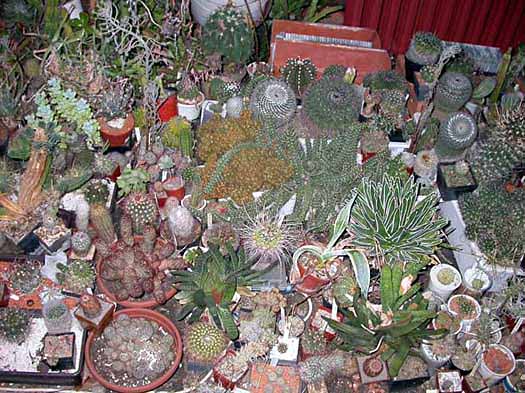 The growing medium for the plants is the mix of soil, sand and crushed tiling (he even has a special appliance for crushing tiles, with a powerful electrical motor ). The first watering is always done on the 8th of March, the cacti are watered with hot water from above using a hose. After that the greenhouses are sealed to keep moisture in.
I visited Prochazka on the 4th of February. Our meeting was appointed for 4 o'clock p.m. after his working hours. The day was warm (about 12 deg. C) but very cloudy, and by 4 o'clock it began darkening. Conditions for shooting being unfavorable I made only a few photos.
Фото автора.