Haworthias and other succulents from the "Succulent Tissue Culture" (Netherlands)
Peter Lapshin, Moscow, Russia
Translated from Russian by Larisa Zaitseva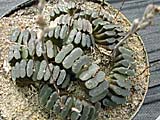 Haworthia truncata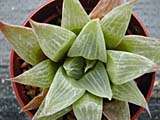 Haworthia aff. dekenahii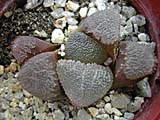 Haworthia bayeri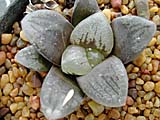 Haworthia beukmannii X comptoniona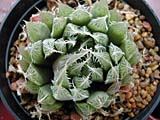 Haworthia bolusii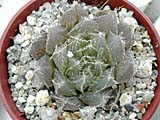 Haworthia cooperi

In the 21st issue of our magazine we have already reported on the "Succulent Tissue Culture" - Laboratories from Netherlands. In the article we made our best to acquaint you with some of the modern technologies of vegetative propagation of succulent plants in a specially equipped laboratory, with an emphasis to the so called in vitro propagation.
In this issue we are glad to show you the plants which were successfully propagated in the STC Laboratories using the mentioned technologies.
Succulent Tissue Culture Laboratory by Robert Wellens performs propagation of rare and endangered species of cacti and other succulent plants using in vitro technology. STC Lab also carries out researches on possibility of in vitro propagation of other ornamental plants and rare caudiciforms. Nowadays the STC Lab works with more than 80 species of ornamental plants and this number is steadily increasing.
Most of the plants pictured here were obtained using in vitro technology, after that they were cultivated as ordinary plants growing in the soil mix. Now they are mature and blooming specimens well adapted to the greenhouse conditions.
In vitro technology is a combination of methods designed for super effective vegetative propagation of plants. This technology allows to restore whole plants from very small individual fragments of any plant organ or tissue, i.e. stems, leaves, root tips, flowers, petals, stamens, pollen grains and so on – from those organs that can't develop into plants by themselves in the usual way.
In vitro technology is very effective in propagation of rare and difficult in cultivation plants. This technology also allows to propagate unique mutations and hybrid plants existing only in single specimen. In vitro technology allows to obtain about a million specimens from only one meristem.
STC Lab is engaged in micropropagation of succulents and other ornamental plants and also performs researches with an aim to obtain mutant super ornamental plants, e.g. plants with variegated leaves.
Many species pictured here are available for sale. To order these plants visit Succulent Tissue Culture Laboratories site. Laboratory Address / Visiting address: Succulent Tissue Culture, Kort Eind 3, 4651 PE Steenbergen, The Netherlands. Phone/fax : (+) 31-113-556001. E-mail : wellens@succulent-tissue-culture.com
All the photos illustrating the article have been taken from the Succulent Tissue Culture, courtesy of Robert Wellens.
STC succulent assortement

Haworthia cooperi v. Dielsiana


Haworthia cooperi v. Leightonii


Haworthia emelyae


Haworthia emelyae v. Emelyae


Haworthia emelyae v. Major


Haworthia emelyae v. Multifolia


Haworthia Kegani (Japanese hybrid)


Haworthia magnifica


Haworthia magnifica v. Mirabilis


Haworthia magnifica v. Splendens


Haworthia maraisii


Haworthia mirabilis v. Beukmannii


Haworthia mirabilis v. Paradoxa


Haworthia outeniquensis


Haworthia pygmaea Crystallina


Haworthia retusa


Haworthia sp. Hakuma hybr


Haworthia springbokvlakensis