New graft chimera: + Digitomyrtillocactus cv. Nevárez
Manuel Nevárez de los Reyes
digitostigma@gmail.com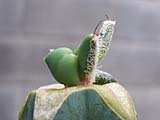 Photo 1.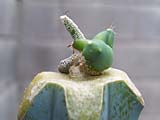 Photo 2.
Letter to Editor:
Dear Valery: I am Manuel Nevárez, the Digitostigma discoverer and coauthor of the description of this new genus/species, and owner of a Cactus Nursery in Mexico called Proyecto Digitostigma. I obtain a new graft chimera that I call + Digitomyrtillocactus cv. Nevárez.
Is a result of grafting an areole of Digitostigma caput-medusae on Myrtillocactus geometrizans. The plant shows some areoles with pure Digitostigma tissue and others half and a half. You can see some photos: 1-4.
As you can see, it is an unstable chimera, showing a stronh tendency to Digitostigma (photo 5).
There are a second plant with similar characteristics (photo 6).
Manuel Nevárez de los Reyes, Nuevo León, México.
| | | |
| --- | --- | --- |
| Photo 3. | Photo 4. | Photo 6. |