Bonsai from succulents
Sergey Zheljabovsky, Czech Republic: www.kaktyc.boom.ru/
Photo by J.Gratias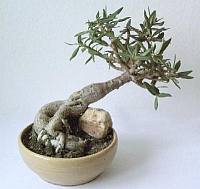 Pachypodium bispinosum
Tiny trees which are grown in flat dishes and decorating our dwelling becomes more and more popular. But true bonsai is rather difficult and long-term business. In Japan these trees are inherited from generation to generation, permanent care is required for them. Besides, these trees usually are set on open air and only in gala days are put in the house. And what can townspeople do living in an apartment house, in an apartment with its original microclimate? For a very long time a substitute of the true tiny trees is habitant of our windowsills - Crassula. Well it's very close to bonsai! However amateurs have not stopped on it. A lot of succulent plants can be perfectly formed as bonsai and feel not bad in apartment conditions.
Thanks to Yan Gratias (gratias@tiscali.cz) regularly for some years paragraphs devoted exactly to succulents as home bonsai are issued on pages of the Internet newspaper by Paul Pavlichek. Having secured with the consent to illumination of the materials published on this site, we will tell to you about such plants.
Adenia digitata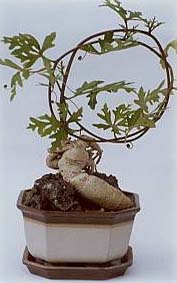 Adenia digitata
This plant concerns to family Passifloraceae and comes from Northern province of the Republic of South Africa which was called Transvaal earlier. As you can see on the picture, it forms mighty caudex as napiform, the bound rhizome. Strong graft grow from it with non-succulent leaves. Exactly this specie - A. digitata - is very less spread among the Czech amateurs than other species of Adenia (fruticosa, globosa, etc.).
Adenia digitata requires a fertile substratum and loves heat. During vegetation plentiful watering is necessary for this plant. Rather patiently endure a dry microclimate of an apartment. Trunk and roots possess significant regenerative abilities. However, leaves bear dryness worse. In any case, this plant refers to number rather hardy. It will sustain also direct solar beams and shading.
It is necessary to warn its owners from using plenty of the fertilizers containing nitrogen. Luxuriant growing grafts require a support. It is also possible to fix them as how it is shown on the picture. If you do not wish the plant to expand, do not replace it. There is the six-year-old plant which has never replaced its pot on a picture. While forming rhizomes with the purpose of its "self-support", all cuts quickly overgrown. Without problems multiple copies of Adenia digitata can be made of halflignicicationed cuttings which should be cut off from an average part of a summer gain with length about 15 cm.