Get acquainted: NEW NAMES
Jure Slatner - Slovenia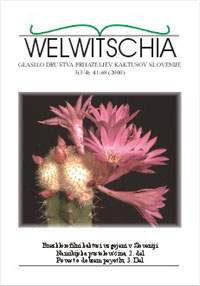 Photo 1. Magazin WELWITSCHIA
http://www2.arnes.si/~sopjslat/albinos/albinos.htm
1. There were lots of cultivar fanciers in your caountry?
No, in fact I'm lonely. Where I mentioned some other names, those persons made the first grafting, and than gave grafted albino cactus to me. It is true that in our country is a lot of fans who knows how to graft seedlings.
2. If you don't mind I will publish the materials of your site in magazine Cultivar?
I don't mind at all. But note the material was already published in "Welwitschia", the magazine of our society (http://www.dpks-drustvo.si) http://www.dpks-drustvo.si/FJournal.htm
3. Could you tell us a few words about you.
I'm a teacher in primary school, information technologist. I collect cacti since I was 10. I love botany, not only cacti. There are several web sites I made: sempervivums at http://www2.arnes.si/~sopjslat/netreski carnivorous plants at http://www2.arnes.si/~sopjslat/mesojedke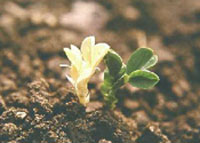 Photo 2. It happens. The albino pea plant has no future.
4. I am interested in the materials concerning your personal experience in growing colored cultivar forms.
I found albino seedlings at my place or at other friends collections. Friends that know what am I looking for, always tell me if some albino appears between seedlings. I go there, take it home and breed it. Sometimes it works, but most times not.
5. Did you get them yourself or buy?
Plants shown at "History" part are bought in flower's shop, all others are from my greenhouse.
6. What is the percentage of cultivar forms among them?
They are all unicats so they are pure cultivars by definition.
7. Do you graft seedlings?
There is no other way!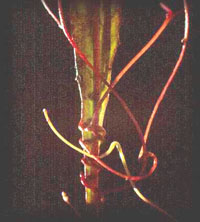 Photo 3. Cuscuta epithymum.
8. How quickly do cultivars grow?
At first year as quick as normal plants. But later some of them don't grow at all. T. macrogonus is now smaller than it was in 1986.
9. Do you use fertilizers?
I tried but it was bad.
10. What are the contents of the soil?
It is no matter, they are all grafted at scions. I use good soil (the same as for balcony plants - petunias, pelargonias) with a lot of drainage material (Hygromull - some sort of urea full of air - it is not a fertilizer!)
11. Do you practice radiating of seeds?
No.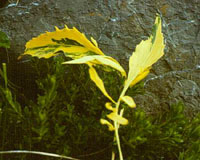 Photo 4. Forma variegata.
12. Do you have blooming cultivars?
Some of them bloom but are sterile. G. mihanovichii is fertile.
13. If so, tell us please about the technique of their pollination.
I tried every technique I found in the literature. (methods of Micurin, Kuzmin also)
14. What do you call colored forms including one-colored, bi-colored, multi-colored or with motley stem?
I have no names yet. Specially in English language. After they (Americans) will know how to say "Cactus" in plural, then we will talk about albino form names. So far my greenhouse is called "Cactus hospital". Nick-names or names of cultivars will be in future others than 'Aurea' and so on. But those cacti on the site were published before as "forma aurea". When the time come new cultivars will be shown.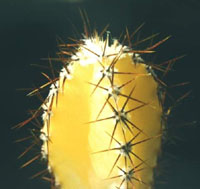 Photo 5. Cereus forbesii cv. aurea is no longer alive, it was too gentle for winter periods. The seedling was grafted by Andrej Knaus, later it was in my greenhouse. Photo: Jure Slatner.
15. Do you know any cacti fanciers who own crested, monstrose, or hybrid forms of cacti?
Almost everybody I know has several of such cacti. (As cacti are not bizarre plants enough, we want more?) Could you ask them to write an article for our magazine or send us photos with brief explanations?
Send as some magazines on address of Iztok Mulej, our president at:
Drustvo prijateljev kaktusov Slovenije
Na trati 2 Si- 4248 LESCE
We will have a meeting in September, than we will cover you with articles. Best regards, Jure
From Editors: By kind authority of President of CACTI SOCIETY FRIENDS OF SLOVENIA and the editor of magazine WELWITSCHIA Iztok Mullej we start acquainting our readers with article "Cacti - albinos. Made in Slovenia." published in 2, 2000 (Photo 1).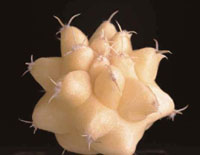 Photo 6. Thelocactus multicephalus cv. aurea (la Bolsa) is one of two albino seedlings from collection of Alessandro Mosco from Trieste, Italy. The grafted one has lived three years. Photo: Jure Slatner.
We hope that the cooperation between our magazines will go on and will be helpfull for our readers. We would like very much to receive materials on the subject of our magazine from the editors of other national magazines.
Dear Walery,
you can publish the article ALBINO CACTI MADE IN SLOVENIA. You have to noticed, where the article was first published and please send one issue of magazine to our address. If you will need picture material, I will put all wished picture to my ftp server.
Regards, Iztok, DRUSTVO PRIJATELJEV CACTUSOV SLOVENIJE, FRIENDS OF CACTI SOCIETY OF SLOVENIA, Iztok Mulej (President and Editor) Na trati 2 SI - 4248 LESCE SLOVENIA, COLOURED DECORATIVE PLANTS.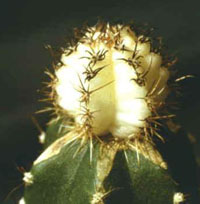 Photo 7. Trichicereus macrogonus cv. Alba is almost without any pigment. It grows very slowly, 2 cm per season. Its tissue is highly compact, it's vegetative reproduction is unsuccessful until today. Photo: Jure Slatner.
Plants that don't produce chlorophyll on parts of their leaves are known as forma variegata. They are treated as valuable decorative plants, such as garden perennials or houseplant. Some examples of these plants are from genera Dieffenbachia, Croton, Ficus, Hosta, or Dracaena.Among succulents, there are two well-known varieties of Agave americana. One with yellow edges and green centre, while the other has the opposite leaf coloration.
The classification of content and proportion of chlorophyll, according to Gustafsoon, 1940, is as follows:
Albina - no chlorophyll or carotenoids are formed
Xantha - carotenoids prevail over chlorophyll or chlorophyll is not even produced
Alboviridis - different colour at the base and the tip of the leaf
a) Alboxantha - base yellow, tip white
b) Xanthoalba - base white or faintly coloured, tip yellowish
c) Viridoalbina - base white, tip more or less greenish or yellowish-green
d) Alboviridis (sensu stricto) - base green and tip white

Photo 8. Trichocereus spachianus cv. Aurea has a little thinner body than the normal plant. Only two years old plants are golden, older plants are corky. Photo Jure Slatner.

Viridis - uniform yellowish-green or light-green colour occurring already at the seedling stage
Tigrina - transverse destruction of pigment. The transverse stripes are usually brown or yellow, narrow and pinched
Striata - longitudinal stripes of white or yellow colour
Maculata - chlorophyll and/or carotin destruction in the form of dots
Some new tipes are already added to this list (known in Cactaceae family):
Aurea - pure yellow plant
Rubra - red plant
Alba - plant white
Plants without chlorophyll can be bred only in laboratories. They need a mostly aseptic environment, and perfect nutritive substances that also contain different carbohydrates, along with minerals.
ALBINOMANIJA
Sometimes a white frog, a white lion or perhaps even a white crow appears in nature. This happens rarely, but happens. But plants without chlorophyll? Is this possible? Browse this side and you will be surprised!