ABNORMAL FORMS OF ASTROPHYTUM, OR QUESTIONS WITHOUT ANSWERS
Nikolay Shemorakov, Kaluga region, Russia
HYBRID ASTROPHYTUM
Probably all of you know hybrids of Astrophytum as they are extensively hybridized in Russia and in other countries. That is why seeds of Astrophytum hybrids are widely available for cactophiles. Many generations of hybrids were created inside the genus, features of natural species mixed, and interesting hybrids and selective cultivars appeared (photos 1 - 3).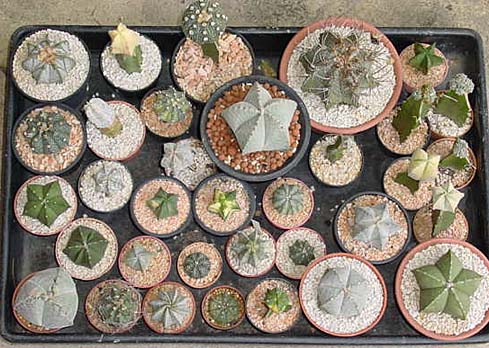 Photo 1.
I can't judge if this is good or bad, it may be just natural, and it's definitely Astrophytum's "guilt", as most of the species are easy to cross, and their seeds have a high germination capacity that lasts for 2 years.
| | |
| --- | --- |
| | |
| Photo 2. | Photo 3. |
Sometimes seedlings of hybrid Astrophytum start dividing dichotomically, or getting red or yellow spots on the stem, or developing crested, monstrous or other abnormal forms that yet have to be named.
DESCRIPTION OF ABNORMALITIES
Among the 2-year seedlings of multihybrid*1 Astrophytum ASCAPAS, one of the plants suddenly developed yellow coloring that covers approximately three-quarters of its surface. Then the plant's apex and the edge of the rib turned slightly green. All the changes occurred without any apparent reasons and only to one of twenty-five seedlings. This non-typical coloring has been shown for four months already (photo 4).

| | |
| --- | --- |
| | |
| Photo 4. | Photo 5. |

Among the seedlings of hybrid Astrophytum ASCAP (A. asterias var. nudum x A. capricorne var. major), I found one with two heads. Moreover, each head was divided dichotomically. The 6-month seedling was grafted onto a 1.5 cm Cereus peruvianus. For a year it grew "dichotomically two-headed". Then really weird things occurred to each of the heads. One of them developed two offshoots. Their axes of symmetry were perpendicular to each other (photo 5). It looked like the apex*2 of the second offshoot was directed inside its dichotomical origin. The other head also formed two offshoots, one of which had 7 differently shaped asymmetrical ribs, and the other had 9 ribs. What form is it? Under what rules does it develop? And the main question: what is going to happen to it?

| | |
| --- | --- |
| | |
| Photo 6. | Photo 7. |

It is unknown, who pollinated an Astrophytum сapricorne var. crassispinum and what pollen was used. But there is an interesting fact: 40 seeds germinated, and all the seedlings developed in a normal way till the age of 1 year, when one of them turned chocolate brown like a Gymnocalicyum friedrichii. What are the reasons? I don't see any. I just documented the fact by making a photograph of the plant (photo 6).

| | |
| --- | --- |
| | |
| Photo 8. | Photo 9. |

The seedling of intraspecific hybrid of Astrophytum сapricorne var. niveum x A. capricorne has red areas on the ribs (photo 7) but its apex is absolutely normal. What caused the red spots? Was it sunburn? But in this case the apex would have turned red first, because the young growth is more sensitive. This is another question that has no answer yet.

| | |
| --- | --- |
| | |
| Photo 10. | Photo 11. |

A one-year-old seedling of Astrophytum senile var. aureum (photo 8) has 5 unusually shaped doublet ribs. Its parents don't have this feature and have 8 ribs. Did the parents' recessive gene*3 convert into homozygous condition*4? It is quite possible. But there may be another explanation.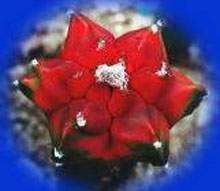 Photo 12.
Multihybrid
- a species obtained as a result of multiple interbreedings.
Apex
- the top part of the stem consisting of meristem and giving rise to all the tissues of axial organs and determining their length.
Recessive gene
- the parent gene that doesn't show its influence in the of the first generation progeny.
Homozygous condition
- homogeneity of the genotype for particular genes. In this article: the genes responsible for the number of ribs.
PHOTOGRAPHS
Photos 1 - Kreewut from Thailand,
Photos 2 - 3 are taken from the Japanese site http://www11.freeweb.ne.jp/diary/rampo/ .
The plants on photos 4 - 8 are from N. Shemorakov's collection. The photos are made by the author.
---
From the Editor.. I don't know neither the authors of these beautiful Astrophytums (photos 9-12), nor their taxonomic names; the only sure thing is that the plants came from Japan. But I would like to learn more. I'm sorry for publishing the photos on our web site without owners' permissions. Thank you very much for this miracle! Altogether I found and downloaded about 60 similar photographs of 'wonder-plants'. I would be glad to receive an article on how these plants were grown or some comments to the photos. I am looking forward to your feedback.