Keith and Lorraine Thomas,
California, USA
The begining of this material is here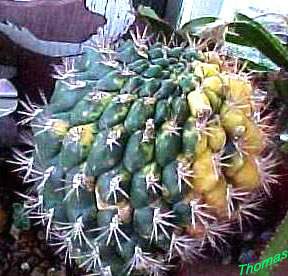 Photo 13.
Photo 13. The two Gymnocalycium together were one of my show plants. The light one on the left was about 13 inches tall and finally died. I believe it was because of not enough chlorophyl to maintain it. The other more round one is a Gymnocalycium saglionis. I still have it and it is basketball size. It flowers every year for me. I tried to grow some seed, but they came out as normal coloring.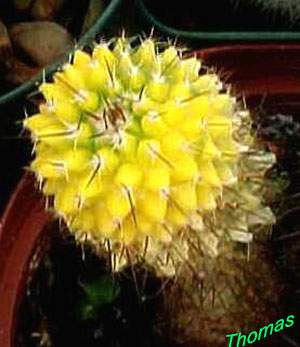 Photo 14.
Photo 14. Mammillaria sp. 1 that yellowish green has hardly any chlorophyl and doesn't grow very fast. It has not flowered yet.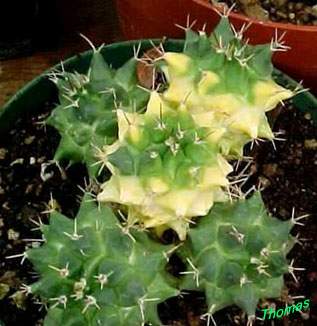 Photo 15.
Photo 15. The Mammillaria sp. 2 is still one that I am not sure of. The green growth is tending to take over and I don't see any more yellow.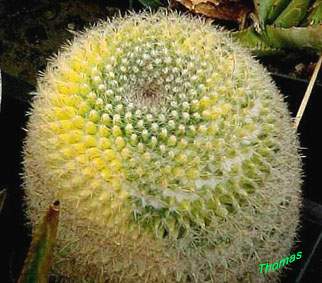 Photo 16.
Photo 16. Mammillaria sp. 5 will be interesting to keep an eye on. I wonder which will take over, the green growth or the variegation.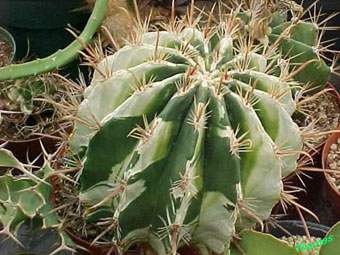 Photo 17.
Photo 17. Echinocactus sp. variegated is one of the very best. I love the difference in the coloring and the clean look of it.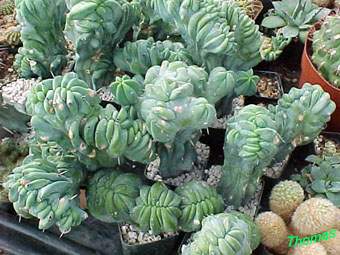 Photo 18.
Photo 18. The Myrtillocactus geometricans crests are usually cut up every year and new ones are rooted.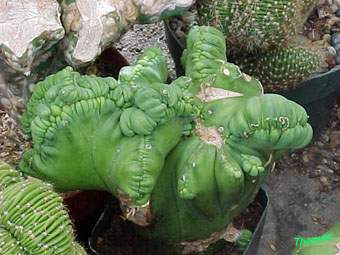 Photo 19.
Photo 19. There is one Myrtillocactus that is all green and I have not found out what species it is.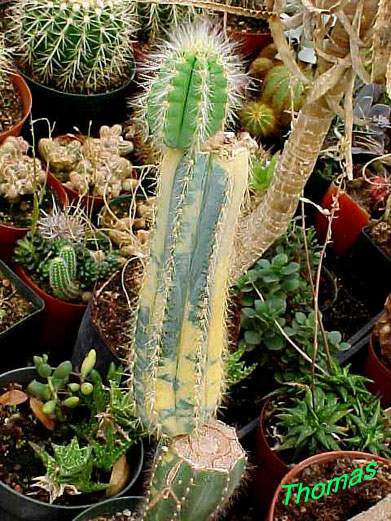 Photo 20.
Photo 20. Pilocereus variegated form. This is a slow growing plant and I have taken off several cuts during the 10 years I have had it.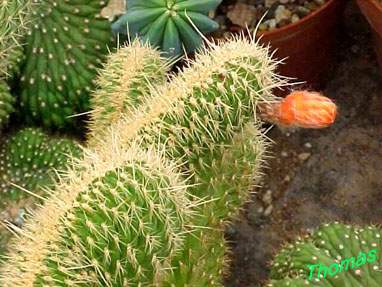 Photo 21.
Photo 21. Cleistocactus baumii crest.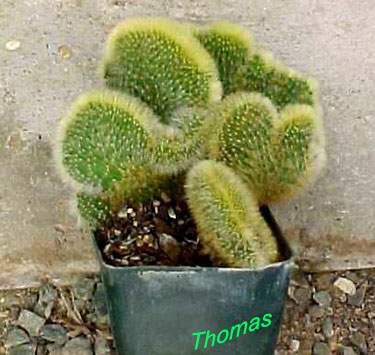 Photo 22.
Photo 22. Borzicactus aurispina crest. These are commonly grafted on a Hylocereus undatus. I usually take them off and root them. They will make really nice looking specimens.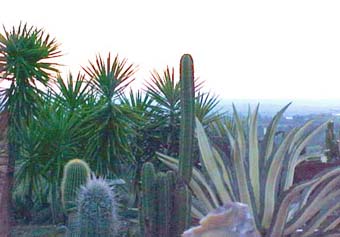 Photo 23.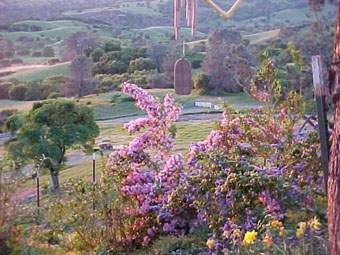 Photo 24.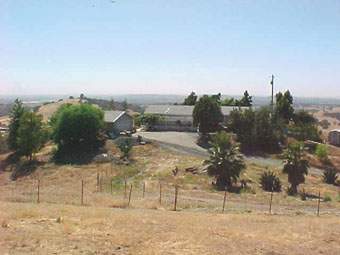 Photo 25.
Photo. 23 – 25. Keith and Lorraine Thomas live here.