Derevyanko Vitaly Trofimovich
Borth on the 21st of January, 1940 in the town of Stela, Kievskaya province, Ukrine.
After serving in the army he came to live in Krasnoyarsk. He worked as a foreman at one of the group of chemical enterprises "Yenisey" and at the Krasnoyarsky plant of non-ferrous metals. He devoted his free time to experimentation in his garden. Vitaly Trofimovich was in correspondence with nearly all the botanical gardens of the Soviet Union. He tried all exotic plants - citric plants (more than 30 species), Begoniaceae, Araucariaceae, Gingko and many others.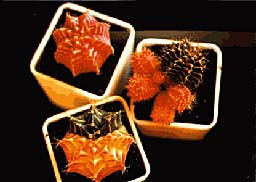 Photo 1.
He studied himself, and taught the others - lecturing before school naturalists: teachers and schoolchildren.
In 1980 he received Parodia mutabilis seeds in a parcel with the seeds of rare plants from the Donetsk Botanical garden. All the seeds were sown in the soil but there were no sprouts. He thought of botanists not in the best way (let them forgive him), and forgot all about that.
However someone from heaven decided in his own way. A few months later cacti seeds and among them Parodia seeds came in a parcel from the botanical garden (Dushanbe City). The seeds were sown and again there were no sprouts. He could not stand that. Vitaly began looking for information about Parodia in gardening literature. In some book he found that Parodia proved to be a cactus. In the city library he found a book of the same name "Cacti" by R.A. Udalova andN.G. Vyugina (the first ed.) with black-and-white illustrations. The librarians said that in the reading hall there was one more book about cactuses with beautiful pictures. He asked them for the book. It was given for a night to read, it was "Thorny miracle" by A. Urban. And: he fell in love with cacti. It was so serious that he gave up experimenting in gardening and began sending letters to botanical gardens asking for seeds of cactuses.
He studied the cactus science by means of "bruises and bumps". He learned there was a club - the Cactus club when he had had more than 350 cactus species in his collection. Every year the collection enlarged more and more. Great help was given to him by Yeramyan E.N. a scientific worker of the Yerevan Institute of botany. Thanks to her Derevyanko had access to cactus seeds from Monaco, Barcelona, San Marino and other cities and countries. In 1980-es many of the cactus leading figures could not even dream about that in the USSR.
However, everything has its end. There was no room for the plants on the window-sills of Vitaly's flat. The collection of more than two thousand species filled his flat. He had to reduce his collection.
In 1986 for the first time he saw colour cactus forms alive in Kiev. There he met Kiev cactus amateur Cherednichenko V.G. who gave him rare crimson form of Gymnocalycium mihanovichii "Pottii", which was brought by him from Poland. For Krasnoyarsk it was the first colour cactus form. In the years to come Vasily Grigoryevich often sent him colour cactus forms and little by little Vitaly Trofimovich became an admirer of these forms. Maybe it was a step to some kind of novelty, to unknown or perhaps it was their beauty, their complicated cultivation their rare spreading that he was attracted to, in any case the love for these colour forms does not grow weak up to now. In winter of 1993 because of the central heating being switched off in a new flat nearly all the collection was lost. He took that to heart. The colour cactus seeds could not be restored. What should he do? To begin all over again? In the situation of the USSR collapse? When all the ties were lost. Nonsense! But the love for the cactuses gave him strength.
Long five years had passed before he became sure that his collection had been restored. But it was the collection in a new quality, the collection of cactuses with motley stems. He was occupied with hybridization and cultivation of the colour cactus forms. At first pink, yellow and motley seedlings were engrafted on usual forms, now they have their own roots and grow in the soil.
Now Vitaly Derevyanko's collection of the colour cactus forms rises genuine delight of both cactus show visitors and cactus growers.
Our traditional best wishes of good health to the hero of the anniversary.